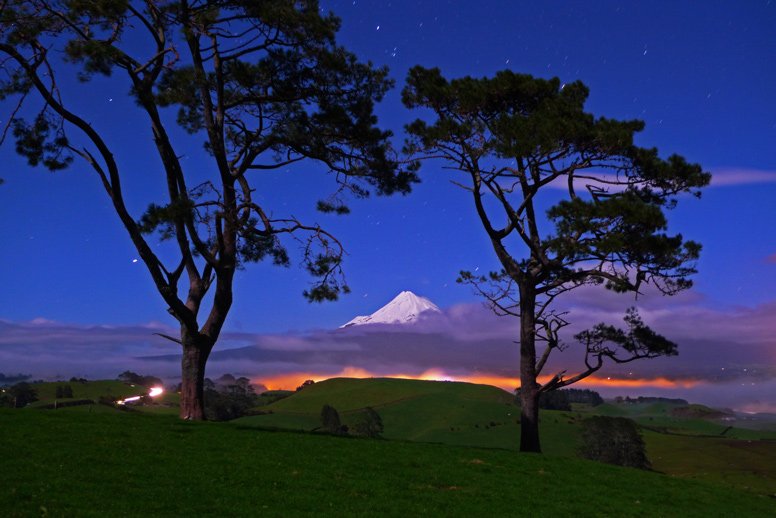 This image graces the cover of my first Moonlight photography calendar, for 2011, and is now available also as a greeting card. I'd had the location very much in mind for the first full moon of winter, but the weather over previous days had been particularly dismal, even by Taranaki standards. An unexpected break was announced by a friend calling from Nelson, and I was astounded to look out to clear skies. This proverbial window lasted only a few hours, during which we covered only two locations, this being the first, roughly 20 km from New Plymouth.
The night was memorable for the striking clarity of snowy Taranaki and the constant motion of the low cloud around it, as well as the varying layers of mist over the nearby country town of Inglewood. Also memorable was my narrow escape from a high voltage electric fence which I had assumed was safe from its lack of insulated wires. Owing to the narrow shoulder of ground on my side of the fence I interlaced the legs of two tripods with the fence wires to secure stable positions. A few minutes after I had removed both tripods we heard a sudden loud and unmistakeable hum from the wires as the current began moving…
The exposure was 60 seconds at f2.5, ISO 200 on my toy Lumix LX3. Autofocus failed me on a number of times here – rather frustrating with minute-long exposures (2 mins really, to complete post-processing). The band of amber is street lighting reflected by the mist; the line of light at lower left is the signature of a distant truck with headlights at full beam. In the dense mist of the lower country I drove the backroads very slowly; out on the breezy hilltop with my cameras I was grateful for my big coat and gumboots.
Posted by Barney Brewster
Tags: calendar, long exposure, Lumix LX3, moonlight, moonlight photography, mountain, safety, street lighting;, Taranaki, trees

Categories: Night photography