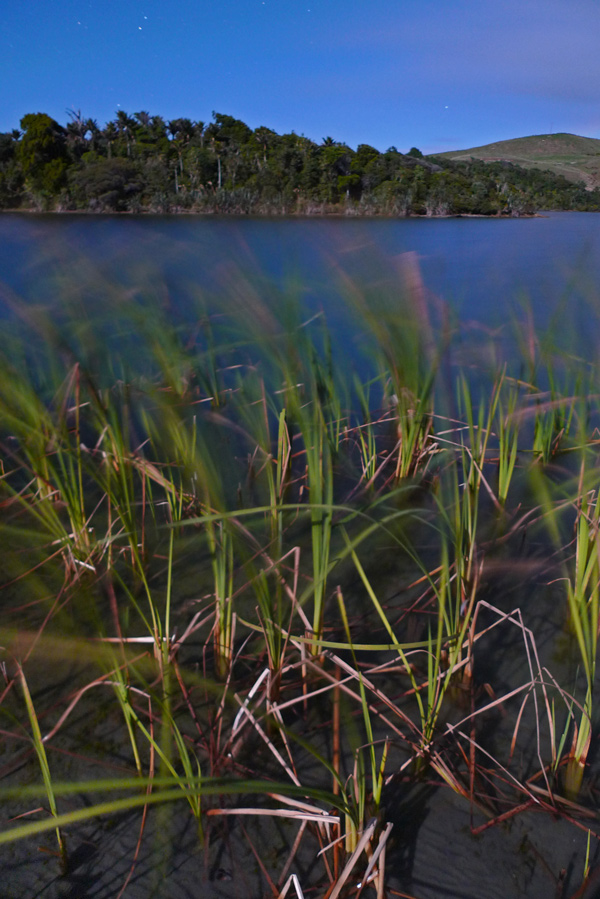 This is the December image from my large format Moonlight calendar 2010. On this night a steady southwest wind was blowing across the lake – as often – at the Kaihoka Lakes Scenic Reserve. The reserve partly encloses lovely twin dune lakes in their original bushy settings, in the top left hand corner of Golden Bay, Nelson. With some Wellington friends we stayed nearby, but the evening above I had the place to myself, as the others somehow preferred the warmth and comfort of the farmhouse. Wandering along the sandy shore by a waxing moon, I saw the rustling of the reeds as a likely subject, to continue my theme of movement recorded in a time-lapse sense.
In this 60 second exposure (at f2, widest zoom, ISO 200) their fronds and tassles are blurred, while their motionless watery footholds are not. The side-lit reeds and the long shadows suggest the moon was still low in the sky at 10.30pm. The depth of focus wide open at f2 is remarkable, given how close my tripod was to the reeds at the bottom of the frame. Wanting a sense of depth and distance, I chose a vertical composition, looking over the reeds as well as through them. Stars shine but unfortunately the cloud was content with a peek-aboo role. This is not the main body of the lake, incidentally, just a corner of it.
For calendar publishing this type of image has three risks: 1. while it definitely sings for arty sorts, it moves lesser mortals… less. 2. it works better in a certain gloom, but since everything depends technically on how it inks (or shows on your screen) the chances are strong that it will appear too dark altogether… here for safety's sake I have added a small boost in post-processing. 3. The vertical frame is no fit for a horizontal format. Only a square American-style format or an uncommon vertical one will accommodate it.
Posted by Barney Brewster
Tags: calendar, clouds, composition, focus, Golden Bay, long exposure, Lumix LX3, moonlight, moonlight photography, movement, Nelson, stars, tripod, wide angle

Categories: Night photography