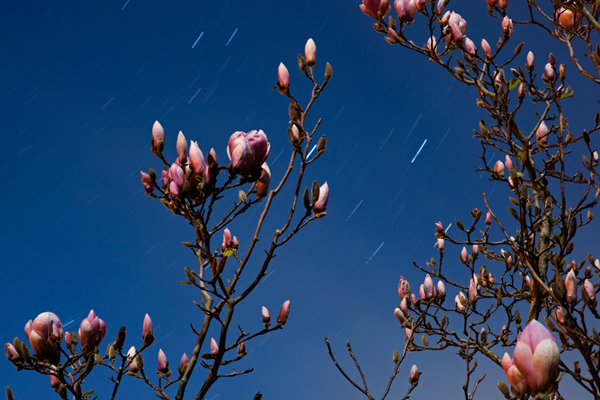 Desire is something irrational for which one always has to pay a high price.
– Pedro Almodovar
On biting winter evenings two strategies can help prise the moonlight photographer from homely warmth. Either go out while it's still daylight, or stay close to home – for an easier retreat. For this extended exposure in the garden next door I have dragged a stepladder along and clamped the tripod stem to the top. I have dialled the ISO back 2 stops to enable a longer exposure. Distant street lighting was slightly dimmer than moonlight but showed on the blossom with every passing cloud. The perfect stillness was remarkable for Taranaki.
85mm, ISO 500. 500 seconds (8 mins 20 secs) at f16.
Posted by Barney Brewster
Tags: flowers, long exposure, moonlight, moonlight photography, New Plymouth, Nikon D700, stars, street lighting;, Taranaki, telephoto, trees

Categories: Night photography