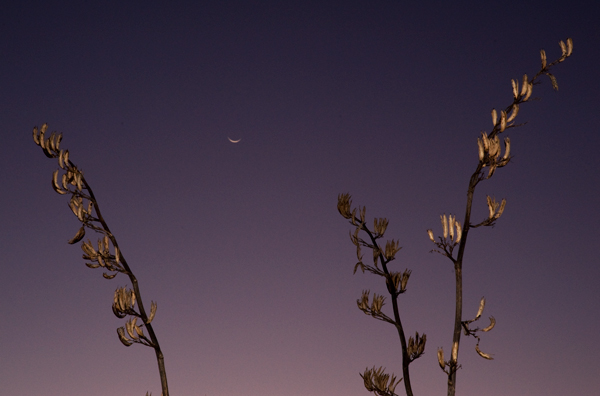 Hope is a good breakfast, but it is a bad supper. –  Francis Bacon
Contrary to Bacon, as a night photographer my hopes rise at supper. The new moon is not visible until the sky darkens, well after sunset. This moon always needs a supporting cast, to add both human scale and pictorial interest; here that cast is very simple.
This could never be natural light because the new moon after sunset is always in the western sky. You could only get silhouettes from the flax stalks from this angle – without fill-in flash. The location is my regular haunt at Paritutu Centennial Park, not the rock itself.
85mm; ISO 1000. 1/50th at f16. Flash
Posted by Barney Brewster
Tags: composition, crescent moon, high ISO, New Plymouth, Nikon D700, Taranaki, telephoto, tripod, twilight

Categories: Twilight photography