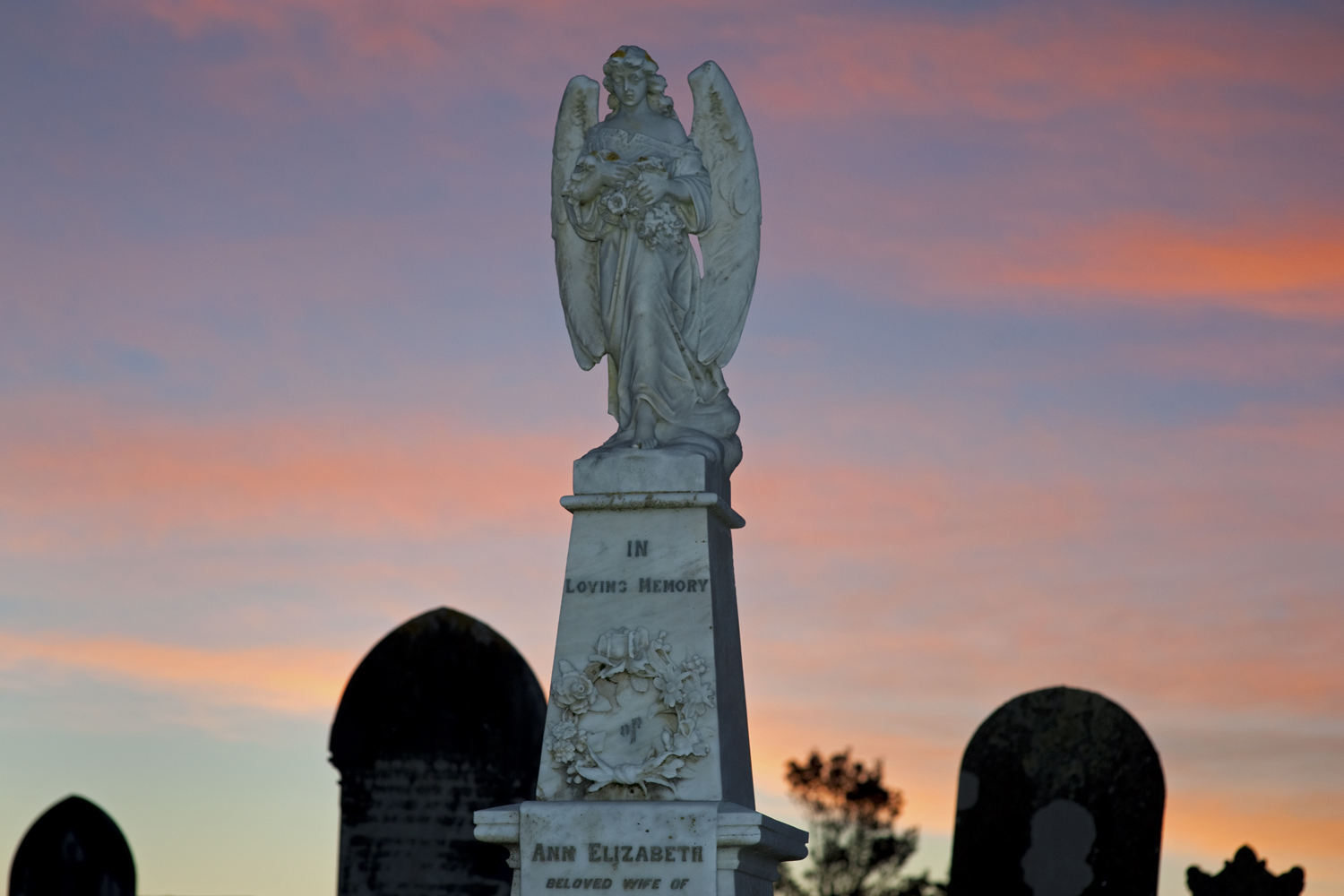 I have begun a new project: a series of cameos from New Zealand cemeteries, taken by day and night, styled under the Latin term above. No longer a common phrase, memento mori  translates to "Remember that you have to die", meant as a reflection on our inevitable mortality. Cemeteries, and particularly older ones, are sanitised theme parks testifying to this hugely inconvenient fact.
They are also places where one can nod to one's ancestors and their collaterals, witness innumerable past lives (some long; many short) and war casualties, and see unusual sculptural forms. It is generally the only place where Westerners can encounter angels, which are very distinctive forms and ones I rather like.
There are two main challenges here, the main one being to balance the flash with the steadily fading daylight – this requires an effort with aperture selection and distance, owing to flash fall-off. For example I would've preferred f8 or f11 (rather than f5.6) for better depth of focus, but these weren't practicable because the flash was not so strong at that distance. The second consideration is to crop surnames from headstones wherever possible, although occasionally a single distinctive name adds to the effect, as we shall see in due course.
Karoro Cemetery is on Greymouth's outskirts; it is a large and open setting, on a long, flattish terrace; we walked there in a roundabout way from the holiday park below.  My Thai companions walked through the place  reluctantly, from cultural apprehensions, and did not linger. However I found plenty of interest, as night gradually fell.
1/250th sec at f5.6; Nikon 85mm; ISO 250
Posted by Barney Brewster
Tags: flash, Greymouth, low ISO, memento mori, Nikon D700, telephoto, twilight, West Coast

Categories: Memento mori, Twilight photography