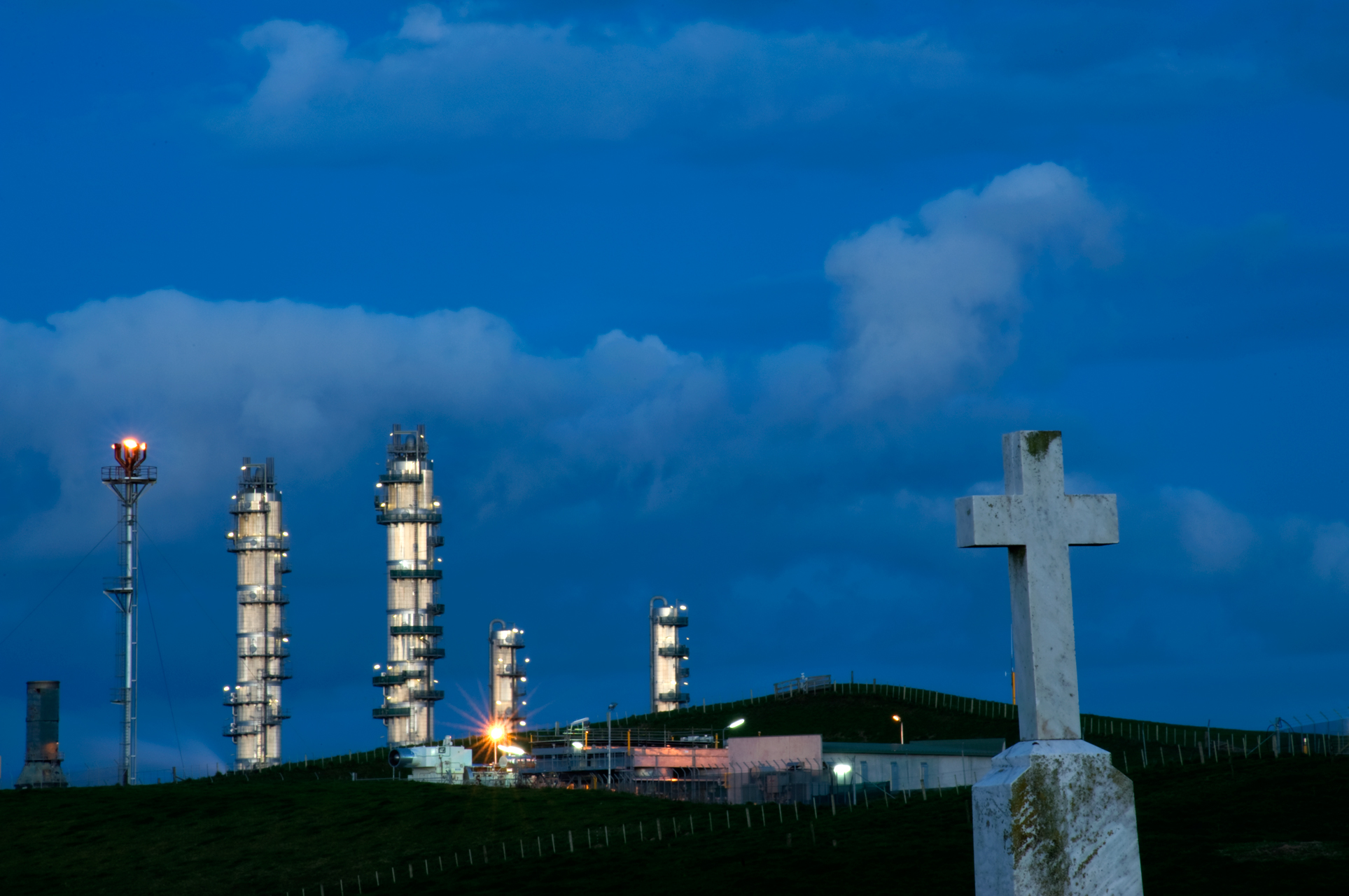 Across from the huge petro plant at Motunui, north Taranaki, is Waipapa cemetery, a Maori urupa dating from 1923. The cemetery is unusual in having a surrounding wall and a gateway, while its monuments present an awesome contrast with the industrial silos on the other side of Otaraoa Rd, to the northeast. However, most of the Motunui installation is out of sight, beyond the knoll.
When I visited here on a rainy summer's day in 2010 the no-exit gravel road ended as it does now, just above the beach, but as a neglected cul de sac, overgrown with roadside weeds. Amongst the overgrowth was unsightly rubbish, dumped over a long period, and potatoes grew large in the resulting compost. Later visits found the road-end cleaned up and much improved, and two calls by  moonlight were memorable for the dairy cows in the adjacent paddock, and the surf on the cobble beach below.
The juxtaposition of cross and silos was achieved with a long telephoto setting and a tiny aperture – even f45 is possible at maximum zoom on this lens. This gives a better depth of focus, compensating for the inherent shallow focus of any telephoto lens. After focus, the second challenge at twilight was naturally the changing light, and the trade-off between selecting a small aperture or a short exposure (to freeze cloud movement). In these situations it always comes down to this: you can't optimise both, so just choose one!
10 secs at f40. Nikon 200mm zoom; ISO <200
Posted by Barney Brewster
Tags: coast, focus, Nikon D700, Taranaki, telephoto, tripod, twilight, winter

Categories: Memento mori, Twilight photography