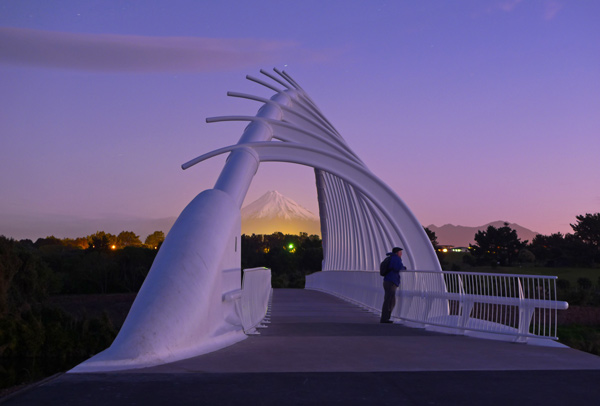 The new footbridge on the northern outskirts of the city was only open a few weeks when I took this photo, which is AUGUST in my Taranaki: The Mountain 2011 calendar (now available). Built to a clever design suggesting whale vertebrae, the bridge extends a popular coastal walkway across farmland to the suburb of Bell Block. The novel structure has had a lot of attention and each time we've visited, usually close to sunset, there have been heaps of people around – and always a photographer or two. Of course the thing is to go when the mountain is visible… a cool southerly seems to assure a clear view, but be sure to dress for it. And people do add something to a bridge scene, in the sense at least of "Here's a figure for scale".
Whatever your feeling for crowds, they melt away as soon as the sun drops below the horizon, so as twilight deepens you quite quickly have the place to yourself. Here, about 45 minutes after sundown, the f2.8, 60 sec exposure at ISO 80 suggests twilight was almost over, the residual illumination being almost as low as moonlight. Two short star trails are visible but I was disappointed by the city glow below the peak (about 30 km away here). Standard lens setting, slight crop, although a longer lens would seem obvious to bring the mountain in more. However even without the limitations of my Lumix LX3, there is a problem with the curving approach ramp. In trying to keep the peak lined up with a telephoto, one is soon off-level and down the embankment. Daisy Day (www.taranakisurf.com) and other photographers have taken long lenses to more distant hillocks, maybe hoping for the same line-up, but since then the farmland has been posted off-limits.
Well if you're going to have problems in life, these are the sort you'd be happy to settle for.
Posted by Barney Brewster
Tags: bridge, calendar, crowds, long exposure, Lumix LX3, moonlight, New Plymouth, Taranaki, telephoto, twilight

Categories: Twilight photography