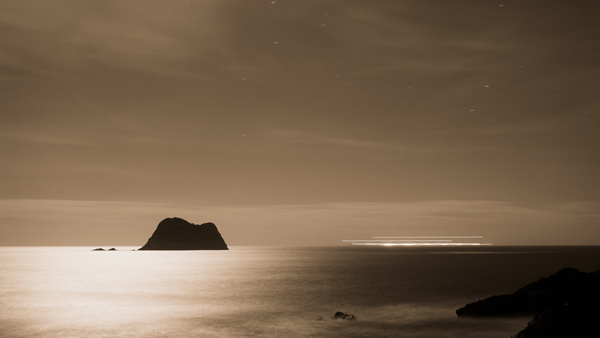 This image is one I was thrilled to get. It's taken from an elevated platform some way up the steep steps from Back Beach to the carpark. The location is Paritutu, a volcanic relic of old New Zealand and a favourite haunt of mine; the giant rock somewhat shields this viewpoint from industrial intrusion. Offshore is distinctive Saddleback (Motumahanga), one of the Sugar Loaves (Ngamotu) – and the light trail of a departing ship. Just around the corner to the right is the harbour, a decommissioned power plant (and 195 m chimney) and fuel depots.
Exposure was 1 minute at f2.8, ISO 100, lens at maximum setting (60mm in 35mm terms). The moon was 4 nights away from full, so far from maximum strength, but seascapes using reflection and silhouette require the least exposure of moonlit subjects. This could be one reason for their relative commonness, although I believe the light trail rescues this example. There is nice detail in the foreground rocks, the surf is wispy, the clouds have come out well… taken in monochrome, with a sepia tint added later. My earlier, colour versions of shipping movements from the beach were disappointing for the lack of a good telephoto, which I will re-visit and remedy sometime soon.
The elevation here adds a sense of depth unobtainable on the beach. As a sheltered corner of the coast the steps were very welcome after four exciting but tiring hours on the wind-swept beach. Not a soul had come by in that time – I had the place to myself the entire evening. The 6×7 Pentax had unfortunately packed up at the last frame on the beach, leaving me just the Lumix LX3 to play around with. One minute exposures are followed by a dark frame minute before your image appears – meaning you have plenty of time to enjoy the silence of the stars, to the soundtrack of the surf.
Posted by Barney Brewster
Tags: coast, composition, long exposure, Lumix LX3, monochrome, moonlight, New Plymouth, safety, stars, surf, Taranaki

Categories: Night photography