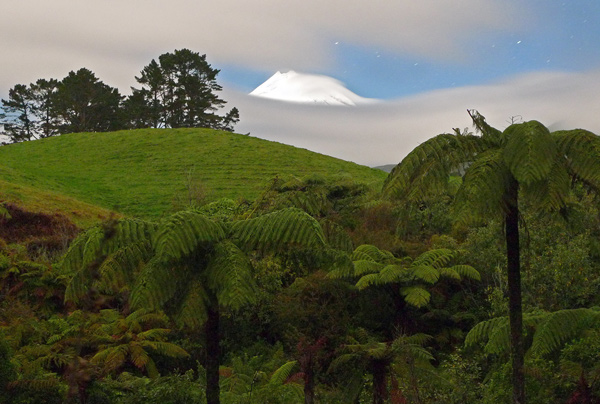 After midnight, with increasing cloud, the moon shining all too briefly between great gloomy scuds. f2.8, 60 seconds, 400 ISO, slightly cropped to trim intrusive vegetation. One big drawback of the Lumix LX3 for night photography is that while the 60 second shutter enables, the viewfinder disables. Nothing can be seen because it's too dark! So you have to aim by guesswork, adjust and re-shoot, adjust again and keep at it until you get it right. Trial shots at 3200 ISO make this process speedier, with exposures of 2 – 8 seconds, but another hassle shows up meantime: the zoom auto-retracts. So if you favour the standard end, you must also remember to check the zoom each time, to be sure you still have the same angle of view.
The high ISO trial images are not actually useable because the Lumix is marginal even at 400 ISO, while pics at 800 ISO are virtually useless. I was a bit shocked to read on a high tech website, www.dxomark.com, that the tested limit for good ISO images for the LX3 was just under 100 ISO!  While photography is all about such problems, and how to overcome them, my immediate challenge (above) was to nail the peak as it came into view, as the swirling cloud repeatedly obscured it. It was good to have the swirl in a supporting role of course.
The sheltered tree ferns suggest only calm and it was a mild night, thanks to the northwest breeze, but the mountain seemed very close. The top of Kent Road is not far (5km?) from the National Park boundary. This appears as JULY in my Taranaki the Mountain, by day & night 2011 calendar – but can it really be Taranaki without a sprinkling of cows in the paddock?
Posted by Barney Brewster
Tags: calendar, high ISO, long exposure, Lumix LX3, moonlight, mountain, Nikon D700, Taranaki, viewfinder

Categories: Night photography