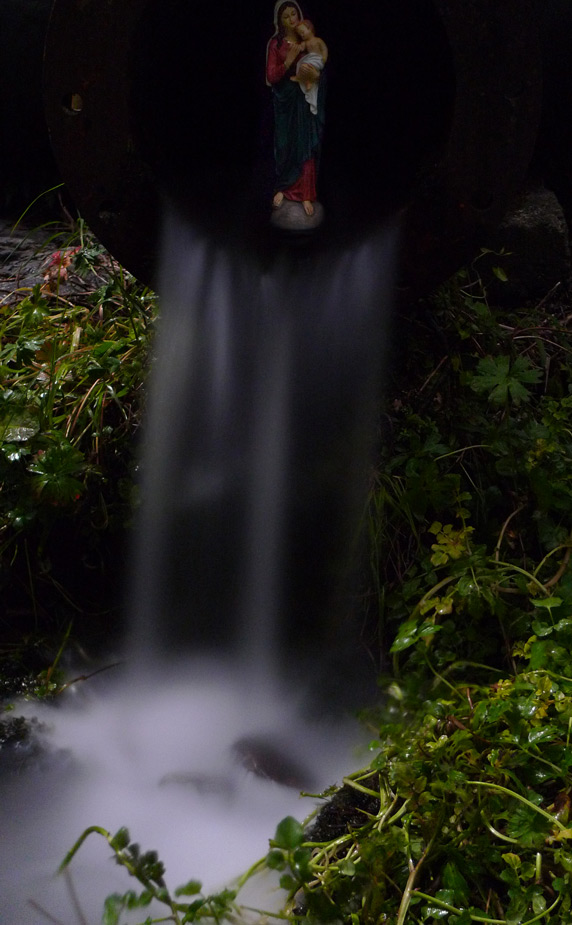 On a clear, crisp autumn night I had several hours of uninterrupted camerawork below the old Brook Reservoir, where a rocky stream under open sky presents many possibilities for long exposures in a peaceful setting. Only five minutes' drive from the suburbs of Nelson, at the far end of the motor camp, this public reserve is unfrequented at night. It will soon be part of the Waimarama Sanctuary, a fully enclosed wildlife and native plant reserve.
For this photo the Holy Virgin & Infant figurine was respectfully placed at the mouth of a culvert which diverts a hillside stream close to the concrete abutments of the reservoir. Apart from a surreal setting, the essential ingredients for this shot were a solid footing on the banks to enable a suitable viewpoint (doubtful at first), plus a vertical composition to take in both the figurine and the soft flow of water.
Framing problems with the Lumix LX3 are evident in the close crop at the top, as the composition was a blind one, made by trial and error. Settings were f2.7 and 60 seconds, at ISO 400, the upper limit for useable images on the Lumix. Waterfalls and the like will convert to an attractive softness in only a second or so, but any exposure longer than 10 seconds ensures maximum effect.
Unfortunately the exposure above was the longest the situation would allow, meaning some underexposure of the figurine. This was happily remedied later in Photoshop and dodging has brought out her colours. These make an agreeable contrast with the shiny greens and misty appearance of the water.
Scale is not obvious but the figurine is about 25 cm high. Although some extra care is required in the focussing, close range images can make for striking and original examples of moonlight photography.
Posted by Barney Brewster
Tags: long exposure, Lumix LX3, moonlight photography, Nelson, water

Categories: Night photography