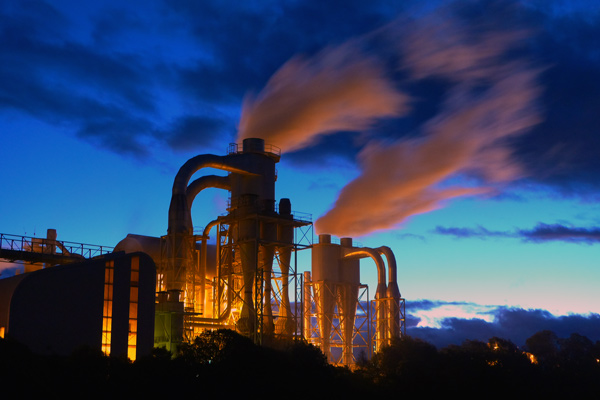 The rugged Nelson hinterland has many forest plantations to supply this "dark satanic mill", sited on a reclaimed shore of Waimea Inlet, not far from the town of Richmond. My approach was at sunset, across the mudflats of Tasman Bay and along an uninspiring shoreline, access which I had reconnoitred the month before. This time I came back with tripod and gumboots, and had an hour or so to fill before the moon rose, and other things. The tide was still far off, so I had only the baritone rumble of the mill for audio.
Industrial photographers pair twilight and artificial lighting because when faced with such tubercular monstrosities as this, it's really the only lipstick you can apply. The twilight was much deeper than the sky suggests, but the lighting balance is about right and the shutter speed of one second has allowed a sense of movement in the vapour clouds (f2.8, ISO 400).
Usually I select tungsten as the colour temperature, to deal with the orange cast of artificial lighting and to add more saturation to the blue background. Oddly, however, the daylight setting delivered more verve and drama for this one, so that's what you see above.
Colour temperature is measured in degrees Kelvin, and in photographic terms it ranges from roughly 1,750 for candlelight to over 12,000 for blue sky, with moonlight (4100) and bright summer sunlight (5400) in between. Tungsten refers to filament lighting and is fixed at 3200 deg K for photographers.
Using the tungsten setting for daylight pictures makes for very sombre, bluish hues; with professional lighting however it delivers a full range of colours. Mixing daylight with pro lighting on tungsten film is an old professional's "trick". Advanced digital cameras have auto adjustments for colour temperature (white balance); this probably makes it harder for digital photographers to relate to the limitations of colour film, with its lack of flexibility with different light sources.
Posted by Barney Brewster
Tags: industry, Lumix LX3, Nelson, Tasman Bay, tungsten, twilight

Categories: Night photography