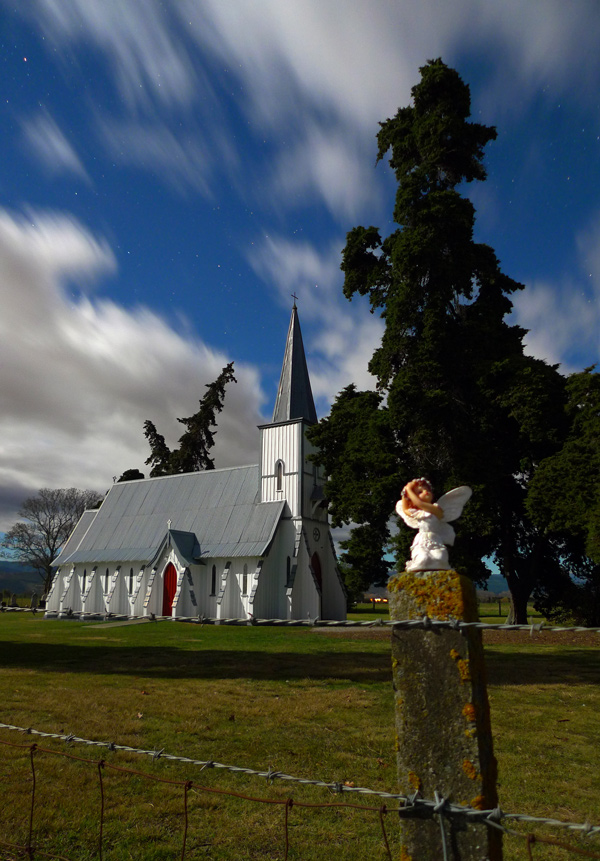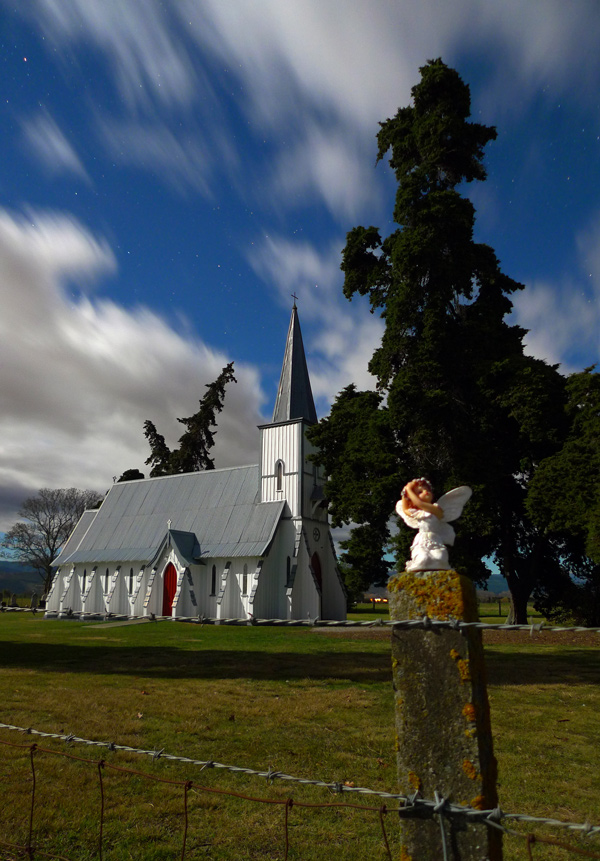 What's a little unusual about this scene – not the long exposure (60 secs at f2, ISO 200), the moonlight or the cherub (supplied of course by the photographer) – is the vertical composition. The spire and the height of the trees make the usual horizontal composition here fairly difficult, but they are well adapted to a vertical composition, as seen here in wide angle (24mm in 35mm film terms). Strong vertical elements are usually required for the success of vertical compositions, and this has at least three of them.
A good depth of focus is the main challenge in this type of set-up. For f2, the depth of focus is quite amazing, softening only on the immediate foreground. As the Lumix LX3 was already at its longest shutter speed, the only other way to extend depth of focus was to select a higher ISO (to give f2.8 at ISO 400; f4 at ISP 800, etc), but higher ISOs are marginal with the LX3 – another limiting factor. At least the newest models have much improved ISO capabilities.
There is good colour range in this image and some strong horizontal lines (wires, shadow, church), while the stars and moving cloud in a blue sky complete the picture. A minor challenge was to finish the exposure without car headlights striping the scene, as we were on a country road with reasonable traffic for early evening. A distant headlight to the left of the fencepost adds more "night proof".
The little angel comes from Bangkok; she has fairy wings of course so scarcely fits the usual Western conception, however her status is clear from her origins – a Catholic supplies shop (for Thai, not Westerners) – and her purpose, which is to adorn a household shrine. I attempted some torch highlights on her in the same place, but was still trying to get the lighting to balance when it clouded over.
Sadly at that point the evening's photography came to an end.
Posted by Barney Brewster
Tags: composition, figurine, focus, long exposure, Lumix LX3, moonlight, moonlight photography, Nelson, stars, trees, wide angle

Categories: Night photography