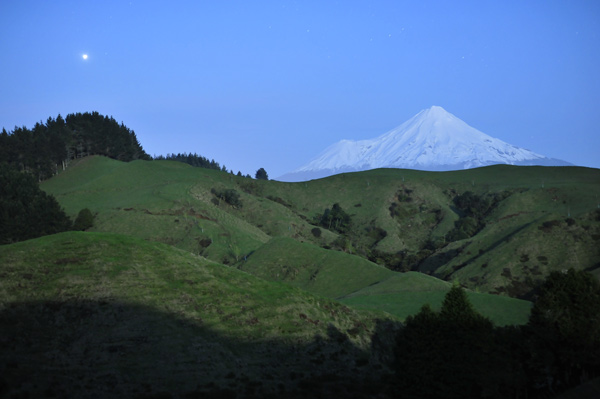 Arriving at a known location after dark still has its uncertainties, especially when the moon is just past full and so has yet to appear. Where exactly will it come up, and how long before it illuminates my landscape?? This lovely scene is inland from Stratford but not too far into the hill country. After many days of rugged winds in Hawkes Bay and Manawatu it was a relief on my way home to have a clear, calm night. I staked a place at the top of the road, and watched impatiently the developing moonglow on the horizon behind.
"Moonrise" in the title is not wholly accurate, as this was not taken on the actual event, but some little time after, when the moonbeams had powered up enough to light the snowy peak before me. At first there was nothing at all to see in the viewfinder, but then the strong reflection off the snow became unmistakeable. Here the middle distance is still in shadow, meaning the moon has some way to climb. I like this sinuous shadow line replicating the hill's, while the pines mimic the peak itself.
Venus has more than a walk-on part, burning a hole in the southwestern sky. She was apparently at her very brightest for 2011 over this week. The cool overall feeling is a photographer's trick and results from a tungsten setting, chosen for effect. As with the rising sun, early moonlight is warmer than the later rays, but this night my mood was against golden syrup.
All was still and quiet and in 45 minutes not a single vehicle came past. Exposure was a quick 15 seconds at f2, ISO 1000, on a 85mm Nikon lens. Having bought an ultra-fast f1.4 lens I now stop down at least once because the lens seems to give some vignetting when wide open – and at f2 I suspect that the lens will be a tad sharper.
Posted by Barney Brewster
Tags: high ISO, long exposure, moonlight, moonlight photography, moonrise, mountain, Nikon D700, stars, Taranaki, telephoto, trees, tungsten, viewfinder

Categories: Night photography