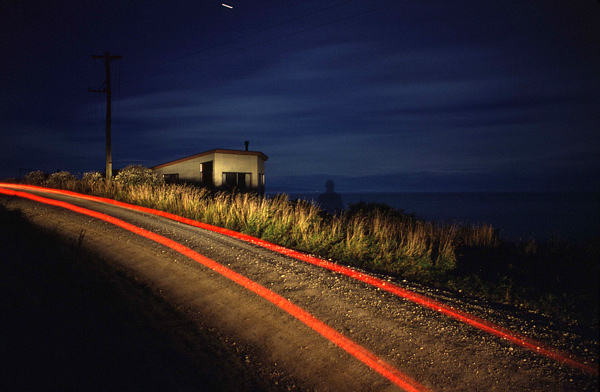 The first question asked whenever I show this slide is "How come the car headlights haven't picked you out on the side of the road". After all, that's my own silhouette, for which I stood motionless over many minutes, while gazing up the moonlit south Otago coast. An unoccupied crib (beach house), a single star trail and power pole complete the picture – plus some streaking cloud.
The simple answer is that as the car approached I had just enough time to compose with the wide angle, frantically tilting the camera down to take in the right amount of then-empty road. I was after a sweep of headlights and a rear light trail, and guessed that another car wouldn't be along for that anytime soon – it was a week night, and off-season in a beach settlement far from any city.
Once the car had gone past I leisurely crossed the road, took up the position to best effect and began my sentry duty. Counted by seconds then, the ingredients were something like: car = 5 seconds, moon = 500 seconds. The 28mm lens on the Pentax was  set at maximum, f2.5, with time elapsed about 8 to 9 minutes. And no other car came near.
Kodachrome 25 was the film. Although a very good one its speed now seems of horse and buggy vintage. It also had a colour chemistry that only a Kodak lab could unlock, in this country anyway. Surprisingly though, for the night photographer a slow film or low ISO setting still gives plenty of creative scope, as well as good latitude and fine resolution – as long as you stick to wide angle lenses. They offer better depth of field and easier focus.
With a low ISO setting, when your compositions require serious depth of field, as 35mm/full frame non-wide lenses often do, then the small and smaller f-stops involved  mean long and longer exposure times to compensate. And more and more patience – so often a scarce commodity!
Posted by Barney Brewster
Tags: clouds, coast, composition, film, focus, light trails, long exposure, low ISO, moonlight, moonlight photography, movement, Otago, Pentax, silhouette, stars, wide angle

Categories: Night photography