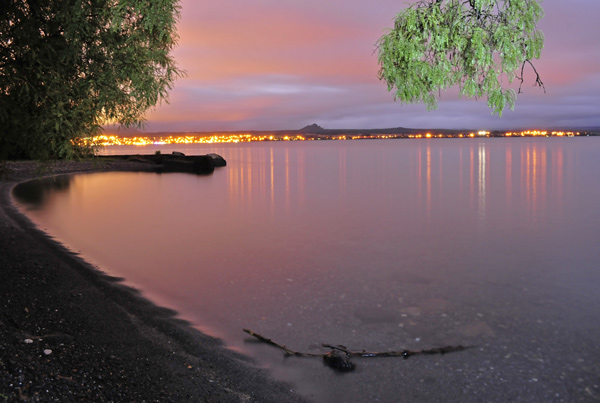 When starved of moonlight by continuing nights of low cloud and rain, the desperate night photographer resorts to framing any scene containing an attractive range of form or colour. So an evening along the shores of Acacia Bay was balm for my exasperated soul, even if half my time was spent holding an umbrella above camera and tripod.
How things have changed here since my last visit on New Year's Day, 1966! The bay is now an affluent outlier of Taupo, a resort city on the lake's northern shore. Much of the Acacia waterfront is away from vehicle traffic, and is well kept, quiet and safe. This made for pleasant photography, bar the challenge of finding good compositions. I was attracted to the scene above by the nearby willow branch (lit by a tiny LED torch) and my interest was confirmed by the shoreline detail. Both elements fill out the frame, add depth and avoid the simple but conventional shot suggested by the curve of shore.
The low cloud reflects the city lights as a pleasing pink, picked up again on the water. More distant cloud highlights are a mix of moonlight and twilight, as f8 @ 30 seconds/ISO 2000 indicates these sources were close to par about 45 minutes after sunset. "Cloudy" was selected for light balance. Depth of focus at f8 is great on a 28mm lens. The shoreline blur gives a slight sense of lapping wavelets, although half a minute has smoothed the breezy ruffles on the lake.
It seems to me that city-at-night scenes need more than just bright lights to inspire us. They can be enhanced by foreground silhouettes (using a small aperture for good focal depth), or by adding some nearby colour detail by torchlight – preferrably something to contrast with the dominant yellows-and-reds, appealing though they are. The picture works as a colour statement yet only the extra interest of the right hand foreground compelled me to take it.
Posted by Barney Brewster
Tags: city lights, clouds, colour, composition, long exposure, moonlight, movement, Nikon D700, reflections, safety, street lighting;, Taupo, trees, water, wide angle

Categories: Night photography