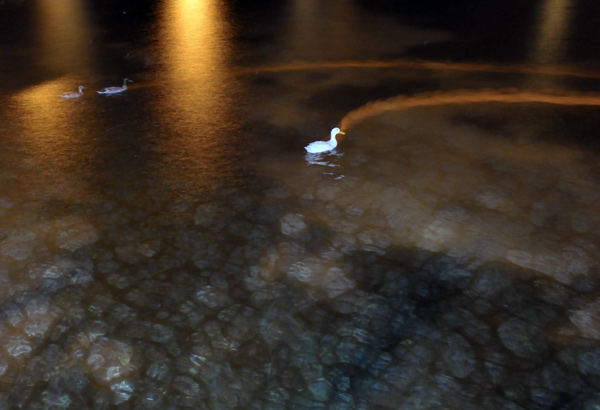 Frustrated by endless murk and rain over several nights at the last full moon, I set out anyway to prop up the tripod at some new locations around New Zealand's largest lake, in the central North Island. I added an umbrella to the kit and spent a lot of time under it, trying to keep the drizzle off my lenses. The bag kept dry directly under the tripod. Fortunately Acacia Bay was a sheltered spot, without much wind.
The image above combines an initial instant of flash with a 30 second shutter time (using f8 at ISO 2000), through a 28mm lens. Slightly cropped from full frame, the shot shows something distinctly unusual – duck trails. I have previously found that a moving line of geese at twilight will turn into a sinuous snowy blur with extended exposure, but I was still surprised to see the brown smudge that each duck left as it paddled away from my camera.
These three had been disturbed from the pier by my intrusion, and returned to roost there whenever I moved off. The blue duck is really a white one, but she demonstrates the effect of flash when the tungsten setting is used – a case of mixing light sources of different colour temperatures. I chose tungsten to counteract the powerful cast of the sodium lighting nearby but this worked only partially – sodium has a much lower colour temperature than tungsten (think: household filament bulbs). While tungsten is around 3100 degress Kelvin, flash is 5500.
As it turns out, the sodium only shows in the movement trails, not counting the reflections from other shoreline lights. The flash has supplied the unexpected mosaic on the lake surface –  the lake bottom is not that regular – although I can't be certain that these effects are not from flash on the rain itself. It is these uncertainties plus the unpredictablility of your moving subject matter that give night photography such creative scope.
Posted by Barney Brewster
Tags: animals, long exposure, movement, Nikon D700, rain, reflections, street lighting;, Taupo, tripod, tungsten, wide angle

Categories: Night photography