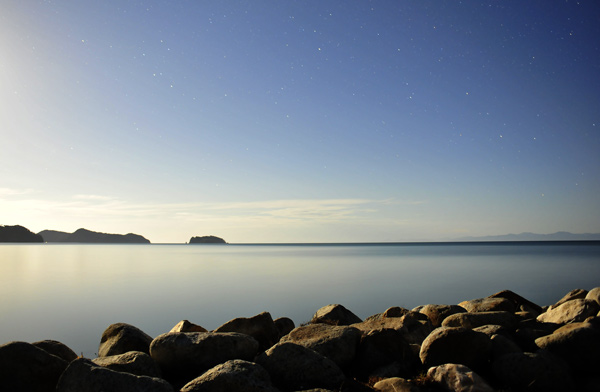 This high contrast composition won't work for everyone. At the time I was much taken with it, but then sidelined it on light of day. It has returned to favour since, as family viewers enjoyed its simplicity… picture selection is an art as well as science.
The bottom layer is a 500 m sea wall protecting the main access to a premier playground, Nelson's Abel Tasman National Park. Even at 2 am the seasonal traffic along here was notable, cramping any creative prospects involving a tripod in the middle of the road.
This image is sidelighting to the limit – the rising moon flaring in despite my attempt to shade the wide angle. Thirty seconds on a 28mm lens minimises star movement, while f4 gives just enough depth of focus. Exposing for highlights (ISO 2000) naturally results in  deep shadows, but the cloud detail compensates, and there's a clearer sense of calm water in this sheltered, highly tidal inlet. Marahau is a mere scallop on the western shore of Tasman Bay, which has the largest tide-range in the country.
Left offshore are Adele and Fisherman islands; there's also a solitary boat light at the roadstead. The rugged coast across the bay shows not a single light – it's uninhabited. Only moonlight competed with the stars on this magical evening, but two in the morning is not a typical time for my moonlight photography. Late night fatigue takes its toll, and driving any distance home in a weary state is not so healthy.
However when bad weather or good society deletes a few big moon nights from your logbook, then a late-rising moon is better than none. Fortunately this excursion, an hour or two on either side of midnight, needed only a short walk down from Colin's beach house. Beach settlements feel much safer for late night wandering than more citified coasts. Just avoid those secluded carparks where later on young people gather to party near your car.
Posted by Barney Brewster
Tags: coast, composition, focus, high ISO, long exposure, moonlight, moonlight photography, moonrise, Nelson, Nikon D700, safety, stars, summer, Tasman Bay, wide angle

Categories: Night photography