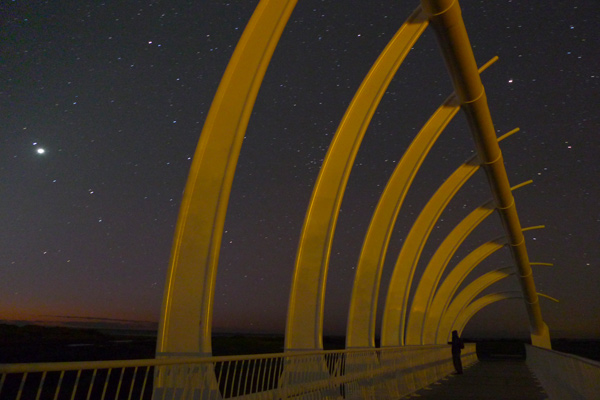 For the night photographer, winter delivers an earlier start. There's a better chance of a good stint as you are fresher creatively, and for longer. In July we antipodeans can take this sort of scene before dinner – it was already an hour after sunset, as the horizon fade suggests.
The star might not even be Venus, but it was bright enough to be. Star smudges and trails near the edge of a lens are a good test of its sharpness, but this shot is compromised by extra noise from the ISO 400 setting. While not so high by today's reckoning, on the Panasonic Lumix LX3 ISO 400 really is on the cusp, and lowering the contrast has partly camouflaged the electronic static inherent to this image.
The other variables (60 secs@f2) establish that this moonless gloom is again at the Lumix's limit. I abstained from tungsten, so the uncorrected light serves to underline the unexpected source – city glow, in the form of some far-off street lighting just below moonlight in strength.
The zoom was set at widest, "24mm", and the self-timer at longest – 10 seconds – to enable my quick trot down the bridge, to the casual pose I struck (with some effort). In picture-making a notable structure is similar to a giant specimen tree in that a figure always adds interest, by supplying the all-important scale. Compositionally, my figure is the third strike, or what I call "the Detail".
On the outskirts of New Plymouth, Te Rewa Rewa was acclaimed as a local icon as soon as it opened last year. The bridge links to a new section of the coastal walkway and is much used by cyclists. The minute exposure here ran the risk of someone running into the tripod, particularly when I was really some distance from it. Little traffic cones with glow lights would be useful as an extra safety precaution. There must be a world market for these – perhaps a dozen?
Posted by Barney Brewster
Tags: bridge, composition, high ISO, long exposure, Lumix LX3, moonlight, New Plymouth, safety, stars, street lighting;, Taranaki, tripod, tungsten, twilight, wide angle, winter

Categories: Night photography