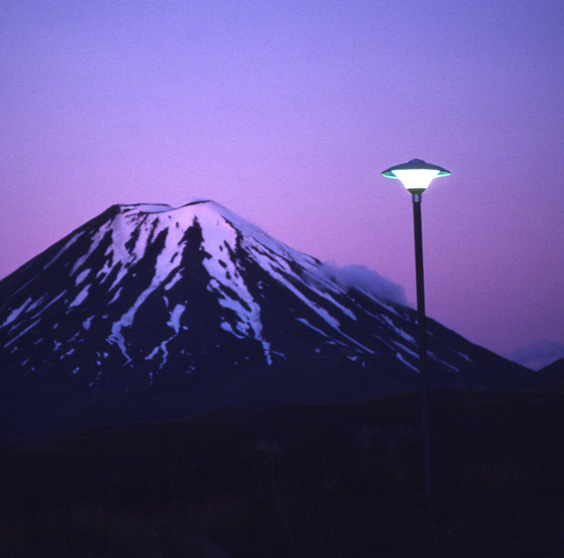 Well located between massive Ruapehu and Tongariro, Ngauruhoe is a young volcano (2291 m, or 7516 ft); the three mountains make up New Zealand's oldest national park. The cone rivals Mt Taranaki in symmetry but lacks her majesty of situation. However in its recent history Ngauruhoe is certainly the more active volcano.
For this simple composition I used Kodachrome 64 in a Pentax Spotmatic F, with a Tamron 135mm lens. I prefer slide film in the 25 – 100 ISO range; slides have the advantage over colour negative of more intense and unmediated colour, a critical factor in many photos.
Exposure details were unrecorded, but most likely this shot is a hand-held 1/125th at f2.8, using the self-timer to reduce camera shake. Ideally, by using a tripod I could have stopped down for perfect focus throughout. However I believe the background softness is much more acceptable to the human eye than the reverse – unfocussed foreground interest.
This type of scene can only be taken with a telephoto. A flattened perspective is highly suitable when you want only a few elements in a picture. A good mountain photo at sunset is usually no great challenge, but by adding something extra I think more impact is achieved.
The Brewster Theory of Composition holds that the two simple layers or planes needed to make a good picture are substantially improved by a third item of interest, usually a smaller detail in the scene. Three keen elements = one good picture, yet it is surprising how hard this understanding is to apply in the field, when the pictures are actually taken.
The essential ingredient of course is having the twilight closely match the street light. This balance lasts only a few minutes each evening. By exposing for the highlights landscape details are necessarily lost, but the cloud patch comes through as a good "third hit". I have not been back to this spot for years but probably the Skotel now occupies the site.
Posted by Barney Brewster
Tags: colour, composition, film, focus, low ISO, mountain, Pentax, street lighting;, telephoto, tripod, twilight, volcanic plateau

Categories: Twilight photography