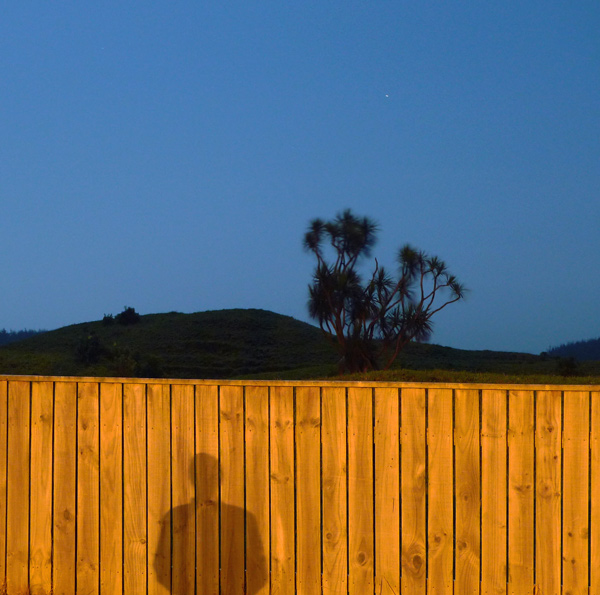 A single star, a dash of moonlight and the ever-present sodium lighting contribute to this striking composition. My shadow only hints at the heavy coat I wore against a chilly wind, whose blast is visible in the ruffling of the cabbage tree leaves. The high, solid fence stumps the dead end of Drake St at Waikawa Beach, near Levin. The landowners evidently wanted no truck with locals or the weekend throng – an impression they have reinforced further on with a very effective electric fence.
Adding my own shadow broke up the blankness of the wall and echoes the dark form of the cabbage tree quite well. It's a pity there isn't more interest in the sky, but it was swept clear of any cloud by the fierce southerly. The Lumix LX3 fortunately does not offer much wind resistance, being so compact, so I could stand well away from the tripod. It's a rare night when conditions are truly perfect for moonlight photography, especially if deck chairs, bougainvillea and emerald waters are considered essential ingredients.
The pale sky comes from a high, full moon but the hue owes much to tungsten, a setting selected to counteract the orange cast of the street lighting. This light has mixed nicely with the moonlight on the cabbage tree. Zoom was at the longest, 60mm (in 35mm camera terms), and exposure was f2.8 for only 20 seconds, on a low ISO 200.
The background topography sums up this sandy coast, where older, grassed dunes predate a wide frontage of more active material on the beach. As with so much of the pastoral coastline of New Zealand, the landscape is somewhat bleak and away from the baches and subdivisions it is only sparsely settled. Apart from Dr Seuss cabbage trees, the typical trees of this coast are those just visible on the margins – gloomy pines, by the hectare.
Posted by Barney Brewster
Tags: coast, composition, Horowhenua, low ISO, Lumix LX3, moonlight, moonlight photography, movement, people, shadows, stars, street lighting;, tripod, tungsten, wind

Categories: Night photography