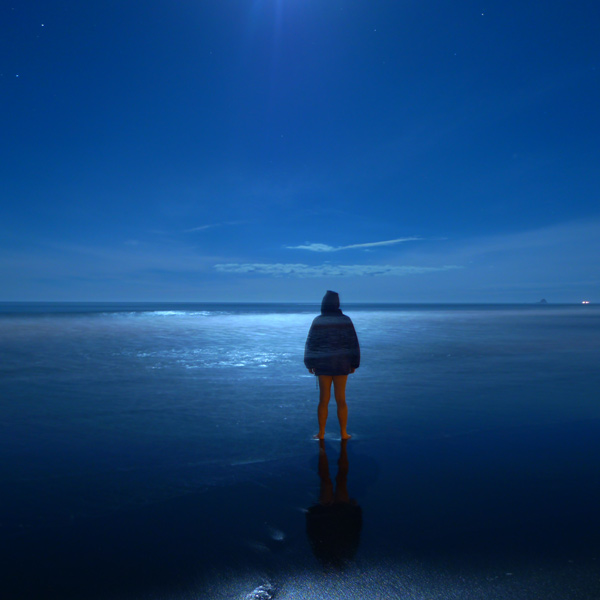 It was midnight by the time I got here for some moonlight photography. Oakura is a good stretch of sand, in Taranaki terms. The place is very popular in summer but in these small hours all was quiet and deserted. No dog was walked and no beer was chugged in the carpark.
One problem for night photography at seaside resorts is street lighting. Even distant lamps will filter in under the moonlight, at a quite different colour temperature. The orange cast of most New Zealand street lighting is the difficulty. The answer is to use the tungsten setting to moderate the orange – and to get as far away from the lamps as possible. Distance from them also increases your chance of a balance with moonlight, as above.
So the extra glow on my legs is not sunburn but low-level sodium from the street. Parka Man looks out to sea and the next wave, on a mild summer's night. The blue note is tungsten's second contribution to this frame. Colour is an equation, and in taking away one hue you have to add another. This has creative application in setting mood.
ISO was a low 100, at f2 for 20 seconds on the Lumix, implying a bright scene by moonlight standards. The Lumix LX3 is a very advanced compact by Panasonic, whose market penetration has surely been assisted by the adoption of Zeiss lenses. The widest end of the zoom was used – 24mm in film terms – but not the self-timer. I have walked into the scene once the exposure has started, demonstrating a certain lack of substance which should appeal to the Buddhist segment of my readership.
Squaring up the original frame gives the canvas some peripheral interest – two stars top left, plus shipping and Saddleback (Motumahanga, the outermost Sugar Loaf). The proverbial footprints in the sand, a slight flare from the moon and low cloud above the central highlights all add further texture.
Posted by Barney Brewster
Tags: Buddhism, clouds, coast, long exposure, Lumix LX3, moonlight, moonlight photography, movement, New Plymouth, people, reflections, self-timer, stars, street lighting;, summer, surf, Taranaki, tungsten, water

Categories: Night photography