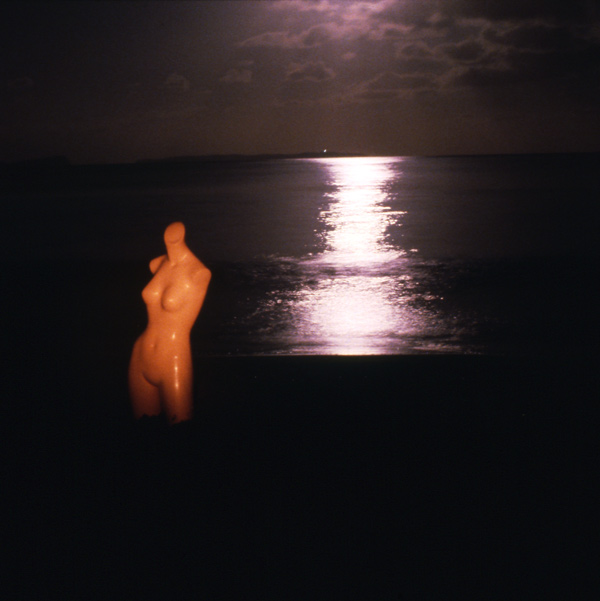 The mannequin once adorned my apartment at Courtville, Auckland. We stowed her in the back for an evening trip up to Long Bay, on the North Shore. It felt like so much lumber to be lugging the tripod as well, but I knew a full moon was coming up, and with no tripod there's no moonlight photography… you might find lucky fenceposts occasionally, but don't count on it.
In the Pentax was Ektachrome 400; it was fast for the time but was not one I liked much – someone had paid me with a few rolls. How quickly we take for granted the digital benefit of instant feedback, so useful when you're freehanding with your light source, or mixing sources. On film a shot like this would be guestimated in a number of steps.
First, figure out focus (not 100% here), then remember previous settings for moony reflections, adjust for faster film, assess strength of torchlight and distance from foreground, and then judge the lapse of time as the beam moves up and down the mannequin. Shoot and advance film for next attempt… wait days or weeks for results. Naturally, you hedged with various exposures – bracketing, it's called – but film was never free, and neither was processing.
The torchlight is an old filament bulb, and today's torches would deliver a much cooler colour temperature. While the exposure was unrecorded, the tiny surf still visible means the shutter was only for a few seconds. The good depth of field and slight curve to the horizon shows a 28mm lens. The clouds were a photographer's pleasure; the distant spark is from the lighthouse on Tiritiri Matangi, in the Hauraki Gulf.
I was pleased with the result, and even when adapted to this square format there's still room for an art director's headline. The mannequin had a long, productive life and featured in other scenarios I dreamed up around this time. We finished the evening with a midnight swim.
Posted by Barney Brewster
Tags: auckland, beach, clouds, coast, film, focus, high ISO, long exposure, moonlight, moonlight photography, moonrise, movement, Pentax, reflections, summer, surf, torchlight, tripod, water, wide angle

Categories: Night photography