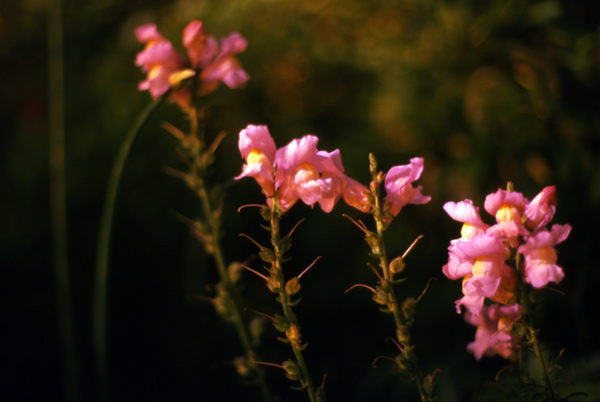 A photo from our garden in central Nelson, in a corner not reached by any street lighting. Taken on Fujichrome 100, on the Pentax Spotmatic, these snapdragons have been titivated slightly in Photoshop, as usual with a slide scan. The warm light with which moonlight suffuses its subjects has not been corrected, however.
Contrary to what our eyes tell us, moonlight is not blue-ish. In fact the moon gives a positively warm light all night long, something like the light of morning with the sun just up. As with the passage of the sun, however, so moonlight is warmest when the orb is low in the sky, and relatively cooler when the moon is high in the heavens.
This close-up demonstrates the shallow focus of a wide open lens (here f1.4), used with a low ISO of 100 for a relatively short time exposure of about 2 minutes, on the B setting. The Spotmatic F was set up on a tripod, and the composition was made fairly readily through the viewfinder, as at f1.4 even by moonlight there is sufficient light transmitted through the lens to frame and compose.
Focus however was not so easy, and I had to use a torch for the fine focus required. Focus is always critical this close anyway, and stopping down improves sharpness much less than it does with "big pictures". While the depth of field is very shallow the bokeh is attractive; the background is a rose bush.
The colour contrasts are good and the exposure suitable for the highlights. There is no obvious colour shift from reciprocity, although Fuji films are said to be prone to a green shift with long exposure. A still night was a major starting point for this frame to work, but it would also be interesting to try a similar close-up on a windy but clear moonlit night – and with different exposure lengths too.
Posted by Barney Brewster
Tags: colour, film, flowers, focus, long exposure, low ISO, moonlight, moonlight photography, movement, Nelson, Pentax, tripod, viewfinder

Categories: Night photography