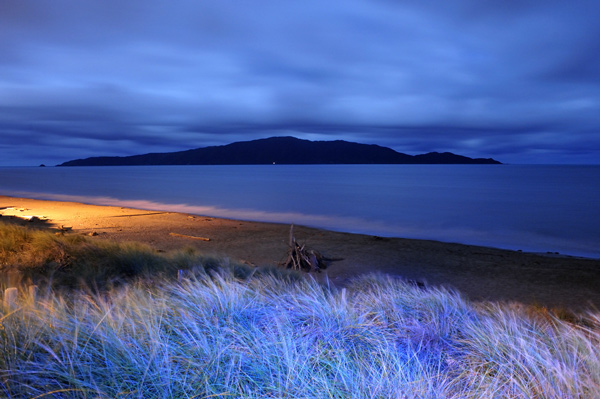 We had three moonlit nights at Waikanae last month on our way south. The beach is on a long sand coast, this stretch being renowned for its bird life. Their abundance is related perhaps to nearby Kapiti Island, predator-free and about 8km offshore. Kapiti is the most significant island on the entire west coast of the North Island, and its distinctive profile and wildlife sanctuary status earn it a special place in the hearts of Wellingtonians.
This was the last photo I took on my third night under clear skies – or formerly clear, as soon after dark cloud came in from the west with great speed, and was then about to envelop the waxing moon. Using the "Feature your problem" principle, I have here made  something of this fast-moving cloud, while adding extra interest to the foreground.
The moody blue of the background is of course my old friend tungsten, although this option on the D700 is called Incandescent. I chose it not so much for mood but to reduce the sodium orange of the strong shore lighting coming from the boat club. From this, tungsten has turned the gentle surf into a line of pink. The solitary light on the island must be from Department of Conservation quarters, as their staff are the island's only inhabitants.
The "classic thirds" composition is unsurprising for this type of landscape. The foreground mimics the island profile; lighting was applied by hand with a finger torch. This has a colour temperature close to daylight, explaining the cool rendering here by tungsten. I did not quite get the balance right, so this part has been burned in later.
A long exposure of 5 or 10 minutes would have streamed the moving cloud more conspicuously, as the effect is only just apparent here. I suppose that in my frustration at the unexpected overcast I simply gave up on the evening's potential too soon!
28mm lens, ISO 2000. f8 for 30 seconds.
Posted by Barney Brewster
Tags: clouds, coast, composition, high ISO, Kapiti, long exposure, moonlight, moonlight photography, movement, Nikon D700, street lighting;, surf, tungsten, water, wide angle

Categories: Night photography