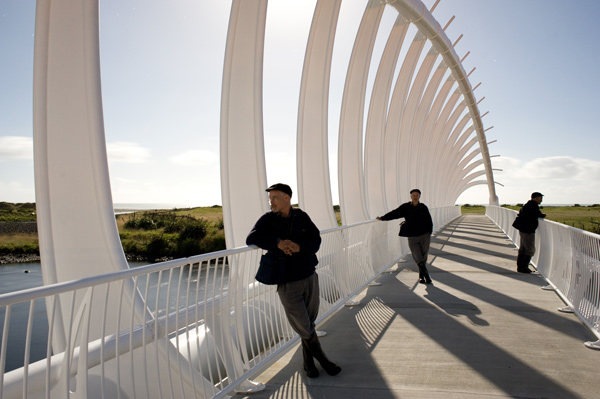 Here's my first foray into moonlit multiplicity. While the subject matter, complete with camera bag, is regrettably dull there's some novelty for me in combining three exposures for a triple self-portrait. Multiplicity has intrigued me so I was pleased to find plenty about it on the web, including self-portrait work by prolific "Miss Aniela" (Natalie Dybisz) (www.missaniela.com; blog at missanielablog.com/picture-what) and the Icelander Rebekka Gudleifsdottir, who now gives less prominence to this side of her work than previously (www.rebekkagudleifs.com/self-portraits.php) .
The main requirement for multiplicity is a fixed position for the different exposures, which of course a tripod answers to immediately. The fun part is followed in post-processing by stacking the images in layers and then careful working on these with the program of your choice. The more pics to be merged, the more layers, and consequently the more work – erasing, inverting, flattening – but at least your inevitable mistakes can be easily fixed with the "Go back one step" button.
While I can't say I've absorbed all the finer points, I do lay a modest claim here to the world's first moonlit multiplicity. For the contra jour look I hid the moon behind the spine of the bridge. The daylight effect is surprising but the moon was high and the light comparable to the early afternoon of daylight. A wide angle was used for maximum coverage and to reduce any worries about critical focus.
Te Wera Wera bridge is one of the sights of New Plymouth; it's a good location for moonlight photography because there's no street lighting nearby, motor traffic is low (and at one remove) and after midnight there are scant cyclists or joggers around. Lastly, the other end of the bridge features a marvellous line-up with Mt Taranaki, as cloud cover allows.
28mm, ISO 2000. Each exposure 30 seconds at f8.
Posted by Barney Brewster
Tags: bridge, daylight effect, focus, high ISO, long exposure, moonlight, moonlight photography, multiplicity, New Plymouth, Nikon D700, Taranaki, tripod, wide angle

Categories: Night photography