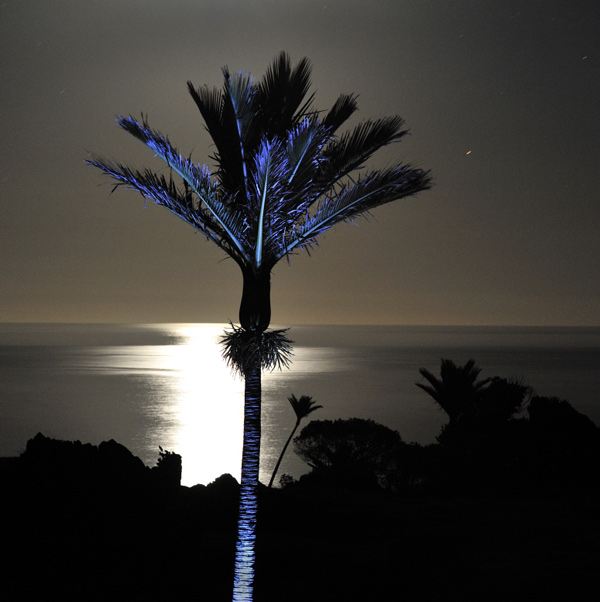 That's the reflection of a sinking half moon, and probably Venus nearby, plus some extra electricity. This is actually on the West Coast, but access is by a long and winding road from Golden Bay. Here the remoteness and locked gate give the moonlight photographer total elbow room and real peace of mind. Come evening we had the whole place to ourselves, with not a single steer in sight, on our part of the farm at least.
Private land in interesting, open country tops my list of great destinations, because the biggest issue regarding your wandering about at night has to be your personal safety – particularly if you are female. "Safety in numbers" is the answer, but when you can't find ready company do you go out alone? If you do, I suggest you at least get there  before dark. You'll then be more familiar with the ground you've covered, when it's time to turn back. You'll also find the developing dark easier to adapt to.
Better again though to give some thought beforehand to the best venues, beginning with how the carpark looks. You want somewhere with predictable traffic – e.g. late boaties or daytrippers – or really none at all. In Taranaki and Nelson I'd say the safest venues are to be found at distant road-ends, specifically those which are connected by walking tracks (or at least well marked access) to river reserves or national parks, and which cross open country. Private land with public rights, in other words.
At Te Hapu (www.tehapu.co.nz) we certainly didn't have to think about this. For this shot I could have found the self-timer, selected the longest option and then run down the slope with my torch at the ready – but having Gerry willing to do the lighting on call from beneath the nikau made it much easier.
I enjoyed the company and also the directorial bit, so thanks again Gerry.
85mm, ISO 2000. 30 seconds at f11.
Posted by Barney Brewster
Tags: coast, composition, focus, Golden Bay, high ISO, long exposure, moonlight, moonlight photography, Nelson, Nikon D700, reflections, stars, summer, telephoto, trees, water

Categories: Night photography