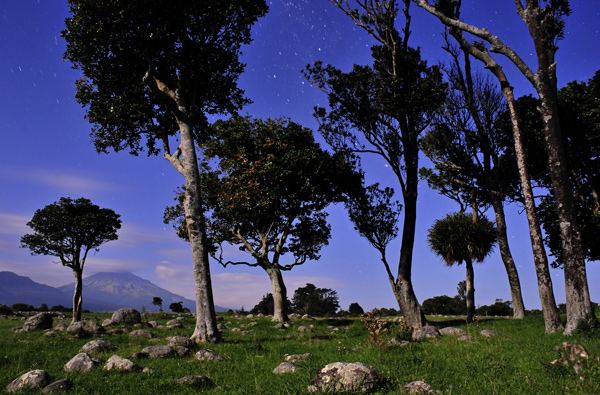 This looks like a flood plain, doesn't it? We could just hear the Stony (Hangatahua) River  off to the right; the line of trees marks its rapid course from volcanic ash-heap to the sea – a tumultuous distance of only 16 km (10 miles). The river was once Taranaki's top trout fishery but it's been badly affected by unprecedented mountain erosion since 1998.
With the waxing moon still low in the sky I took up a low position with the tripod and the wide angle. Cloud flitted around Mt Taranaki but the lower slopes were nicely lit. I was hoping to include both the rocky field and all of the karaka trees. The karaka (Corynocarpus laevigatus) is an attractive New Zealand native notable for its bright orange fruit, just visible centre stage. I could smell the rotting windfall fruit nearby.
Having bobbed around to get the best angle, my next task was to set the best focus, really just a simple matter of using the f8 depth brackets on the barrel. Not every lens has this useful aid: I set infinity close to the far bracket mark and the near bracket mostly covered everything close at hand. I needed to work at a good clip (still slow to most people but my other speed is very slow) – though I was glad to have some company it meant only limited time before I'd hear the words cold and tired!
If out on my own I would use f11 or f16 and longer shutter times to be sure of getting everything sharp. The thistles on the right are thus fuzzy, although this could be from wind motion. As it was, I got a brighter night-for-day look than intended, so the frame has been darkened in post-processing. Density of image is hard to judge in the gloom of night, despite the brightness adjustment that can be made to the LCD monitor.
28mm, ISO 2000. 103 seconds (1 min : 43) at f8. Vivid picture control.
Posted by Barney Brewster
Tags: clouds, focus, high ISO, long exposure, moonlight, moonlight photography, mountain, Nikon D700, stars, Taranaki, trees, tripod, wide angle

Categories: Night photography