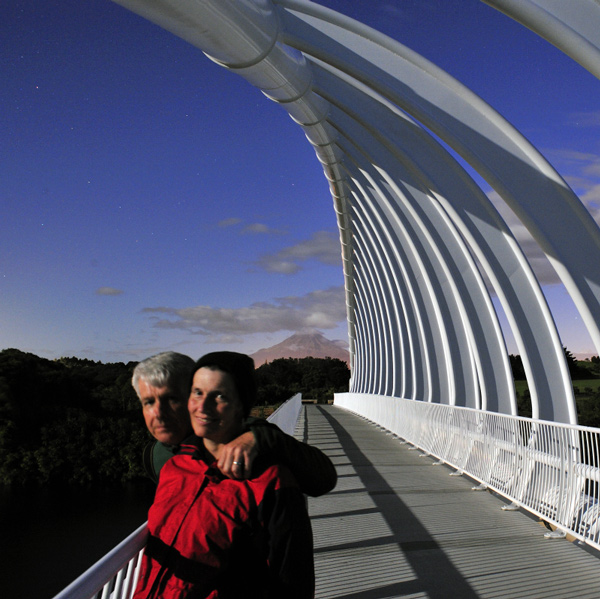 It was a perfect evening, with the biggest full moon since 1993, this being another close approach in the 18-year cycle of lunar orbits. Four of us visited the famous bridge and wandered along the coastal walkway, on New Plymouth's northern outskirts. The rolling landscape was beautifully lit and John had some fun with his camera too – proving that moonlight photography is quite infectious.
People shots by moonlight are a challenge. Forgetting to alter picture control from Vivid to Standard, as here, wasn't the best start, as strong shadows are rarely flattering for your subjects. Ilona is wearing a black cap, for example. The wide angle I used is less suited to portraits, unless you seek subtle distortions in the human face. It is fine for groups, however, where the camera is not so close.
Yet for night photography wide angles have a big advantage in easier focusing. They have a better inherent depth of field than telephotos. Cameras with smaller sensors also have better depths of field, over every class of lens (the Nikon D7oo is a full-frame dSLR). This principle is easily demonstrated with film: 35mm camerawork has less demanding focus than you get with roll film (medium format), while it's a cinch compared with finicky large format (4×5 and larger).
After poor focus, fuzzy results in moonlight people shots can be blamed on subject movement. People sway or fidget – or just plain breathe. Subject movement can be interesting but in a similar way to how stars look good either sharp or long – smudges have less impact. Here John and Ilona did their best but model this principle.
So to get better results I must use the tricks of early studio photographers, whose daylight exposures were similarly long because of their slow emulsions. I will have to either anchor my subjects to whatever fittings are at hand – or get them really moving!
28mm, ISO 2000. 15 seconds at f9.
Posted by Barney Brewster
Tags: composition, focus, high ISO, long exposure, moonlight, moonlight photography, mountain, movement, New Plymouth, Nikon D700, people, Taranaki, tripod, wide angle

Categories: Night photography