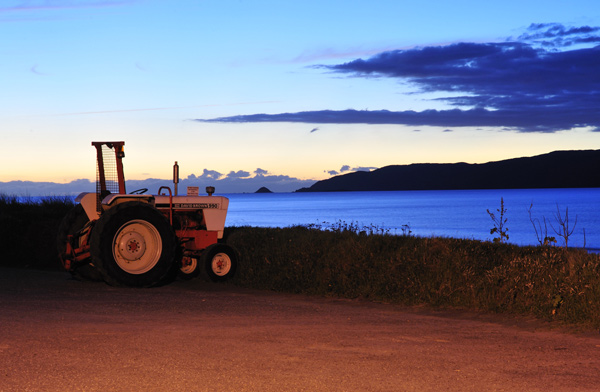 A very simple image taken at the Waikanae boat club on the Kapiti coast. The tractor is lit by a single bulb outside the clubrooms, and here is matched with the deepening gloom of twilight. Several boats came in shortly after, and the tractor was used for hauling each in turn up to road level. The profile offshore is the southern end of Kapiti Island, landmark for the district.
The twilight was darker than the exposure suggests, the Nikon D700 settings being only 3 stops more more than exposure for full-moon-on-water, for example. The incandescent (tungsten) light balance softens the harsh sodium lighting while deepening the evening blues. The balance of light was still slightly in favour of the western sky, but this changed in a few short minutes, despite the full moon in the east.
Although taken on the margin of night it is true that by the strict minimalist standards of, say, Ken Rockwell (www.kenrockwell.com/trips/2011-02-yosemite/index.htm), this shot could be managed without a tripod. However, using a hand-held 1/160th sec at f1.4, at ISO 2500, would involve only the shallowest of focuses and include some risk of camera shake on the telephoto.
Being an enthusiast for depth of field and a night photographer to boot, of course I had my tripod along and this was one of my first shots for the evening. Without a tripod it would have been one of my last. It can be tedious at times to have to lug and re-set the three-legged beast all evening, but only a portable fixed position allows the full scope of long exposure creativity. For me the beauties of this are the main attraction of twilight and night photography.
The single subject is a common starting point and its very simplicity can be a striking element, compositionally. Further interest I think lies in the two contrasting but balanced bodies of colour.
85mm, ISO 1000. 2 seconds at f16, Vivid picture control.
Posted by Barney Brewster
Tags: coast, high ISO, Nikon D700, street lighting;, summer, telephoto, tripod, tungsten, twilight, water

Categories: Twilight photography