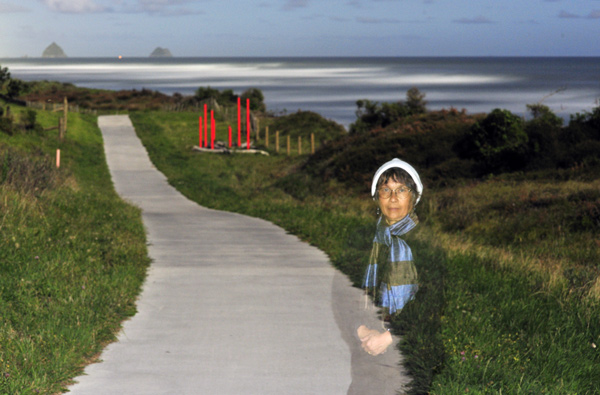 Out with some Scottish friends under a brilliant moon – the best since 1993 – we legged a good stretch of the Waiwhakaiho walkway, on the New Plymouth outskirts. Having noted this viewpoint along the way, it was surprising how long it took to re-locate it on our return. On the wild uplands of Tibet photographer Alister Benn used GPS data to find his earlier location, for a great moonlit mountain scene (www.availablelightimages.com) but you and I muddle in the dark instead, on city fringes.
Oh well… To fit my intended photo, the path had to look out to sea and take in the two largest Sugar Loaves off Port Taranaki, so that the frame would feature long surf breaks while avoiding city lights. However the walkway crosses various low sandills and in the gloom all the crests looked the same – until we arrived back here.
In this shot, flash in the first instant is paired with a long interval over which the feeble photons of moonlight build up on the sensor. These two light sources are rarely combined. I missed an opportunity in not re-focussing for background straight after the flash, for the moonlight fill-in. To do this you simply move the focus closer to infinity on the lens barrel, manually, to give two fields of focus on the same frame.
Our friends had gone on ahead but with more time I would have thought of a better pose, while for the ghosting a dark background is clearly preferrable. Obliging here is my wife Narumon; the red poles are sculpture and the light out to sea is actually at the end of the breakwater.
The varying distance of the moon from Earth affects the power of moonlight slightly over the 18-year cycle of the lunar orbit. In March 2011 the moon was again at its closest point to Earth, and so at maximum luminosity.
85mm, ISO 2000. 30 seconds at f11. Vivid picture control, pop-up flash.
Posted by Barney Brewster
Tags: coast, flash, high ISO, long exposure, moonlight, moonlight photography, New Plymouth, Nikon D700, people, surf, Taranaki, telephoto

Categories: Night photography