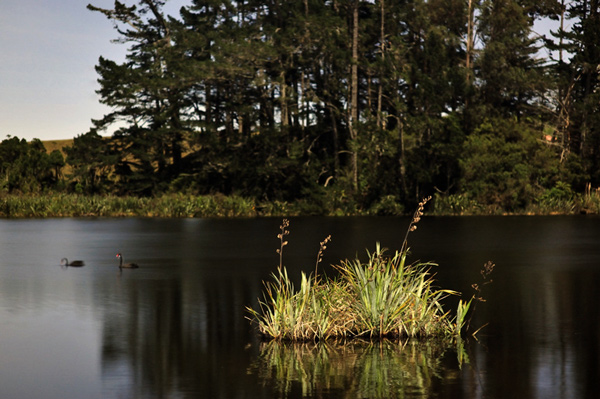 It is only with the heart that one can see properly; what is essential is invisible to the eye. –  Antoine de St Exupery
Although my heart is in this place, in this case I saw by ear, as the swans weren't visible by moonlight. However they were very audible, and other wetland birdlife also supplied lively night sounds. My initial 30 second exposures showed only smudges or the barest of swan-forms, so I resorted to much shorter shutter speeds, using the camera flash.
At this distance – say 40 m – flashlight has an advantage in that its rapid fall-off gives only a weak illumination, one close to moonlight. The short shutter speeds also enable more frames to be taken, in the hope that at least one frame will find "the moment". While using flash means faster battery run-down, the night photographer should always carry reserve power, and it's not often that I exhaust both my batteries in one evening.
Levels here have been dropped in post-production to give a better night-time feel and to bring out the contrast of natural background moonlight with the flash-fill, a difference of roughly 1.5 stops. Obnoxious pylon wires on the skyline have been retouched.
The location is Rotokare, a natural lagoon backed by bush at Barrett Domain, on the edge of New Plymouth. Upmarket housing and street lighting now impinge on the western lake fringe. A wooden platform provides the only real viewpoint here and also some good working surfaces for the night photographer.
Only one evening this first winter month has been suitable for moonlight photography; all other possibilities have fallen victim to bad weather, the dreaded lurgy or social obligations: the usual suspects, in other words, in the suppression of moonlight opportunities. At least I gave this pleasant evening seven hours, and in turn I got good exercise in walking up there.
No birds were harmed in the taking of this photograph.
85mm, ISO 2000. 5 seconds at f2.8. Vivid picture control.
Posted by Barney Brewster
Tags: animals, birds, flash, high ISO, long exposure, moonlight, moonlight photography, movement, New Plymouth, Nikon D700, Taranaki, telephoto, trees, water

Categories: Night photography