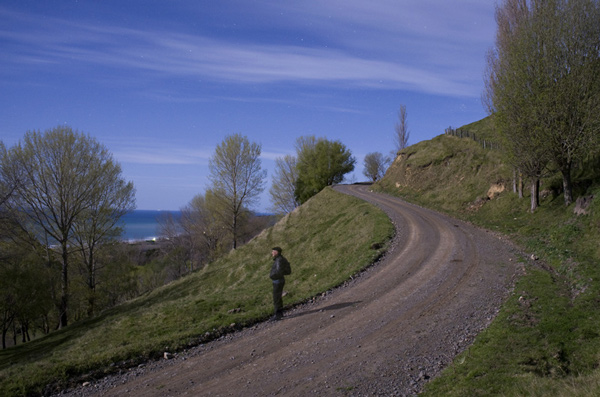 Everyone complains of his memory; nobody of his judgement.
–  Francois de La Rochefoucauld
When setting this up I wasn't certain I was on a public road, but according to Google this is Cook Road, overlooking Waimarama on the coast. No vehicle came by the whole time, but traffic was regular on the main road just below.
To get the desired sweep of road I pitched the tripod on an elevated shoulder. Everything was slushy underfoot, and I was pleased to be wearing waterproof gumboots, as having warm, dry feet all evening is a real boon to middle aged night photography. Yet the slush was nothing like the drastic conditions experienced here since, and this scene won't be so easy on the eye since the area's record floods.
I have darkened this in post-pro as the original frame looks like daylight; a stop or two less would have been better. Having run into the frame from the higher viewpoint, I am slightly transparent; instead of figuring out the self-timer beforehand on the new camera, in the dark I followed the path of least resistance.
In the field I keep my gear on my back throughout; on changing lenses, filters etc I restore everything immediately to the bag. By day it is often convenient to have accessories out of your kit and close to hand, but even by a bright moon you will find that gear is easily misplaced or knocked over, or simply overlooked when you move on.
Also, when out on your own at night, your primate brain is alert with an instinctive wariness. Having anything not on the tripod already on your back is an elementary precaution for a possible dash to safety – however unlikely that event proves to be by the end of a pleasant evening.
No public road is ever 100% safe, but a gravel one without fences is a good bet.
28mm, ISO 2000. 30 seconds at f5.6
Posted by Barney Brewster
Tags: coast, Hawkes Bay, high ISO, long exposure, moonlight, moonlight photography, Nikon D700, people, roads, safety, traffic, trees, tripod, wide angle

Categories: Night photography