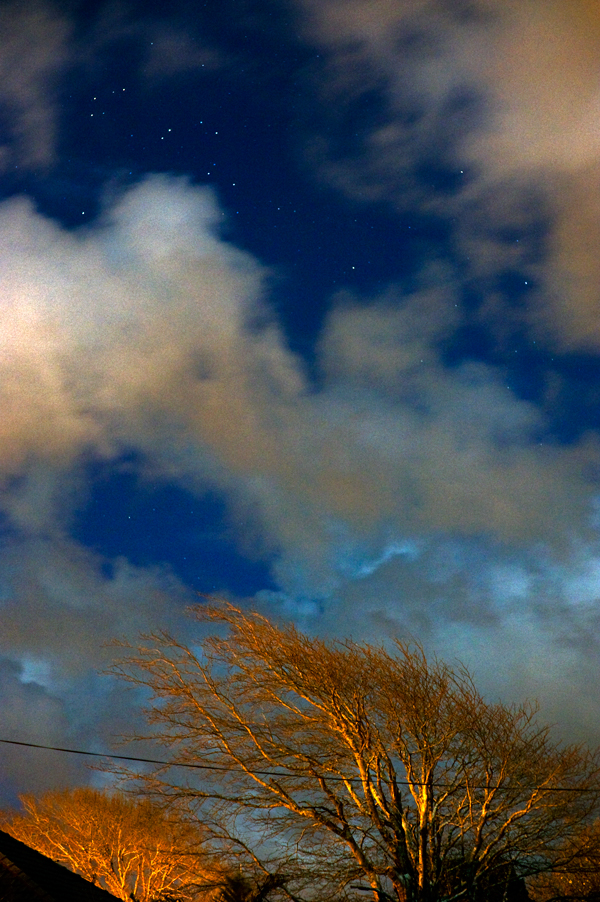 Life is made up of marble and mud. –  Nathaniel Hawthorne
It's surprising what you find close to home when you can't venture far. Apart from their starriness, this scene matches with the previous one, Marahau before moonrise, in one  sense: use of f4. However their shutter times demonstrate how far apart light levels can be on different nights: 3 secs v. 327 secs – same ISO.
I like the colour range here and the sense of depth in the heavens. Three secs is not enough to stop the moonlit cloud and even the stars are shaking. Hawthorne's "mud" here refers to the marring power line, which went up only last year.
85mm, ISO 2000; 3 seconds at f4
Posted by Barney Brewster
Tags: clouds, high ISO, long exposure, moonlight, moonlight photography, movement, New Plymouth, Nikon D700, stars, street lighting;, Taranaki, telephoto, trees

Categories: Night photography