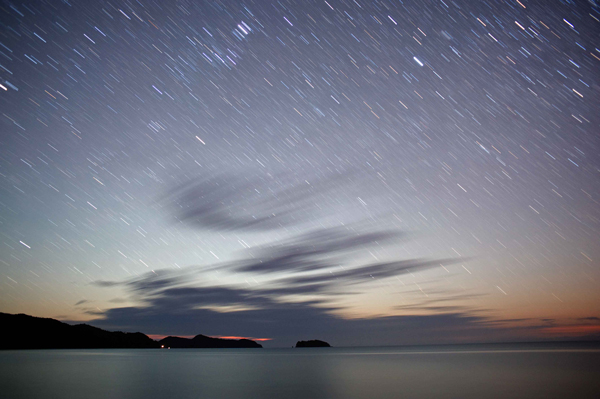 Somehow to capture the constantly evanescent quality of existence.
– Tennessee Williams, on his goal in writing
It can be a pain to wait for the moonrise on those nights following full moon – although you do get some quality time with undimmed stars and the odd cloud capture. Eventually the eastern horizon lightens and of course it's too early for dawn.
This is one such evening, looking across the shallows from the last settlement before Abel Tasman National Park. Lights mark the channel at Astrolabe Roadstead; two islands are in view, the obvious one being Fisherman's. The view varies with the tide, here at its peak.
28mm, ISO 2000. 327 seconds (5.5 minutes) at f4
Posted by Barney Brewster
Tags: clouds, coast, high ISO, long exposure, moonrise, Nelson, Nikon D700, stars, Tasman Bay, water, wide angle

Categories: Night photography