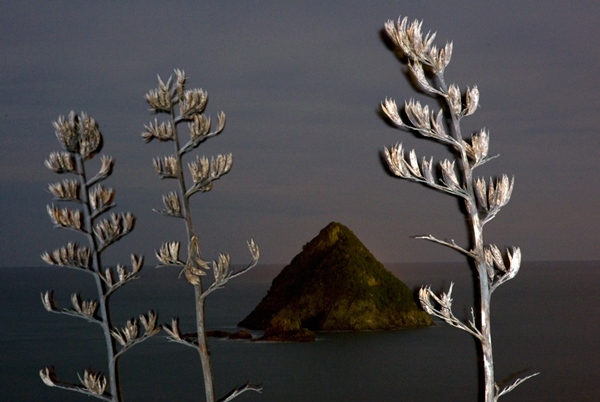 Time is the reef upon which all our frail mystic ships are wrecked. –  Noel Coward
Here you see no ships nor port, but a curious effect of some tricky experimentation. Changing the focus manually during exposure gives two planes of focus! For technical reasons this works best on telephoto, using flash before a time exposure. The shadows are really silhouettes after the flash, where the flax stirred in the breeze.
The island is Moturoa and the glow behind it is explained by lights from a ship at anchor.  Harbour lights illuminate Moturoa; although the moon was up it was quite hazy. The quote is appropriately theatrical.
85mm, ISO 2000. 30 seconds at f16. Flash
Posted by Barney Brewster
Tags: coast, flash, high ISO, long exposure, moonlight, New Plymouth, Nikon D700, Taranaki, telephoto

Categories: Night photography