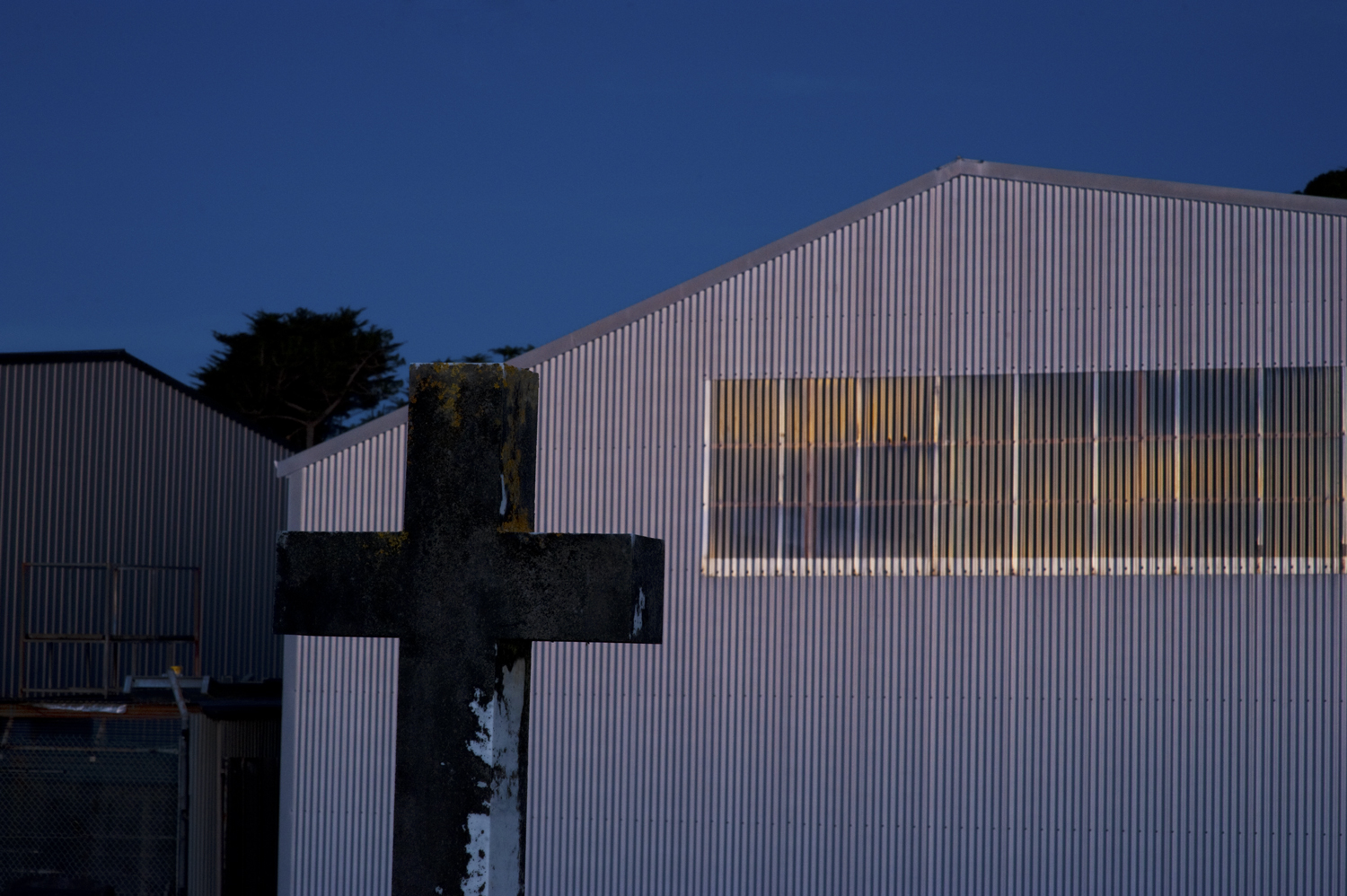 Odd neighbours at Greymouth. 6.37pm, 10 April 2018
The neighbourhood of New Zealand cemeteries can be quite quirky, especially in the larger cities, but even in Greymouth a cross can have an industrial background. Land bordering cemeteries is less desired for housing, so perhaps becomes more affordable for industry, or other purposes.  The cross is strongly associated with Catholic graves, and it is easy to forget that our cemeteries have traditionally been segregated along religious lines, into Catholic, Protestant and Jewish sections (where the cross is understandably absent).
The cross is not perfectly placed, but close enough, given my frustrations with setting the tripod in a confined situation. The foreground is flash-lit, but the small aperture has subdued the usual effect, while enhancing depth of focus (thus the reasonably sharp background). No skein of cloud was available  for the top left corner but the space is well balanced by a similar empty space at bottom right. In composition, empty spaces can be offset by other blank spaces in the frame. Colour-wise, the golden lichens on the cross have their counterpoint in the lingering sunset reflected in the windows.
Memento mori: Succinct Latin remembrance that we all die, each in our time.
1 sec at f16. Nikon 85mm; ISO 500
Posted by Barney Brewster
Tags: cemeteries, composition, flash, focus, Greymouth, long exposure, memento mori, Nikon D700, telephoto, tripod, West Coast

Categories: Memento mori, Twilight photography