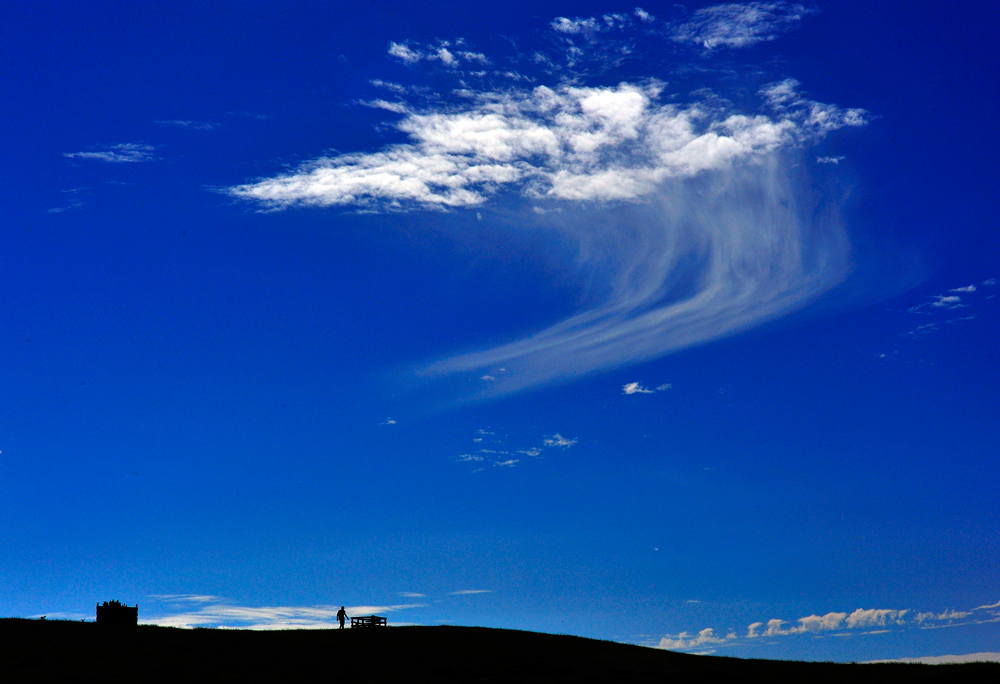 Typically the dead have company, as we are social creatures in death as well as in life. Our cemeteries may be ranked as communities in their own right: hamlets, villages and towns. Despite the poor (or absent) roads of colonial New Zealand, lone graves are not common here. The law required burial in a cemetery unless there was none within 30 miles (50km) distance. This was the case when young Cecil Addison died of tuberculosis at remote, unroaded Te Hapu farm, on Christmas Eve 1924. Just 16 years old, he was buried in pasture on a terrace overlooking the Tasman Sea – a lovely prospect on a fine day but a site also fully exposed to ocean weather.
In the image above there's a summery sense of that lovely prospect, minus the soundtrack of the surf rolling in below poor Cec's resting place. With my telephoto lens waiting, an obliging friend has gone over to the grave (at left is a protected planting), well out of our way. I have underexposed for a day-for-night effect, although the sky is too blue to pass for a night exposure. The soft curve of the land in view is not a true impression of the front country at Te Hapu, which is made up of corrugated terraces, with limestone bluffs and headlands behind giving a picturesque backdrop for a lonely grave.
To shoot a similar scene today i would drop my shutter speed and my ISO, for a cleaner finish. 1/400th at f16 at ISO 250 seems a more obvious combo to me now, with minimal risk of camera shake. With due thanks to Richard, for "going the extra mile" for my camera.
1/1600th sec at f16. Nikon 85mm; ISO 1000
Posted by Barney Brewster
Tags: clouds, Golden Bay, lone grave, Nelson, Nikon D700, summer, telephoto

Categories: Daylight photography, Memento mori