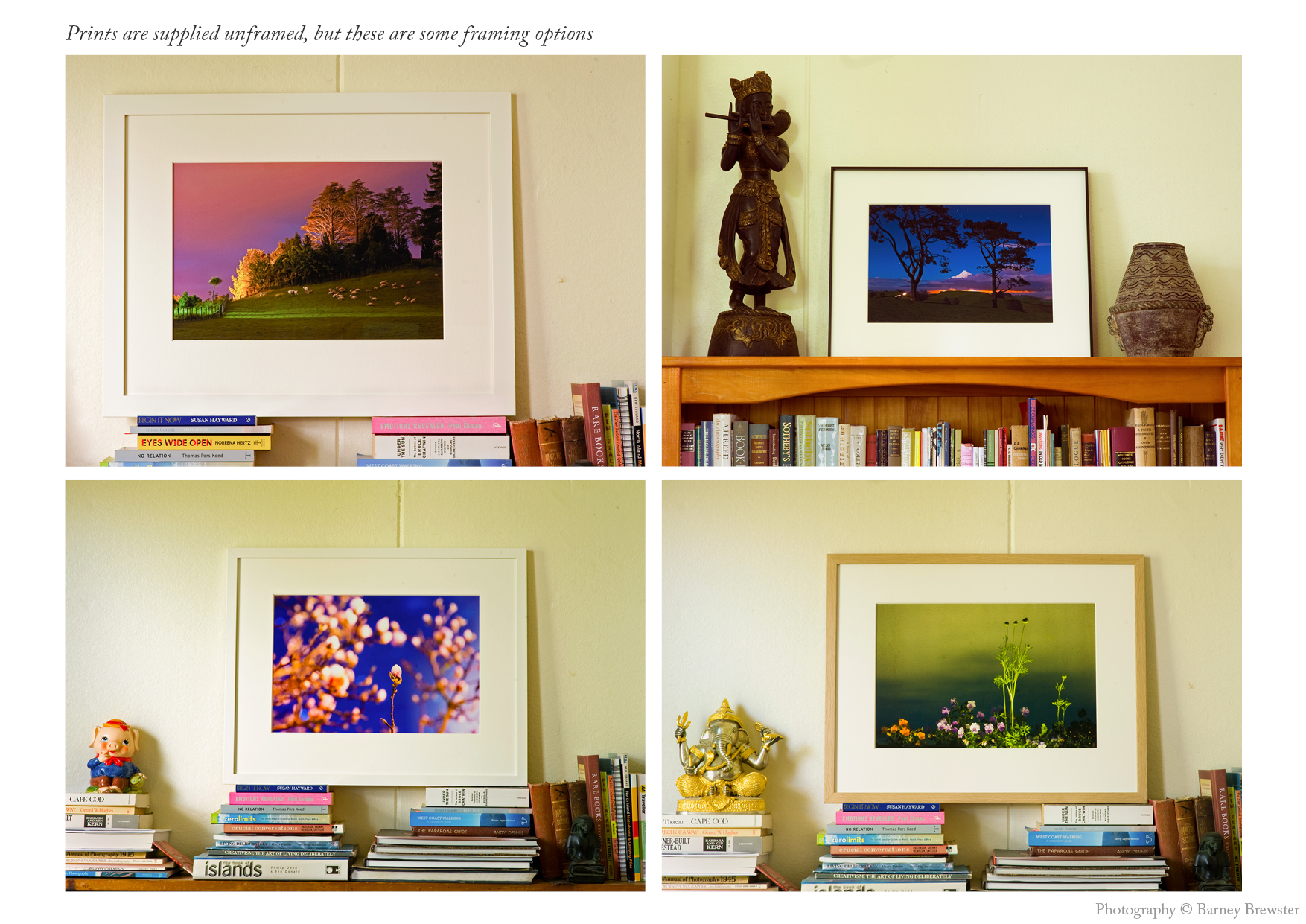 Fine art prints from New Zealand
Original and beautiful fine art for your walls
---
Available now from night photographer Barney Brewster
Do your walls suffer the secret shame of art poverty?
Then your problem is solved.
Today for a limited time I offer lovers of New Zealand scenes 8 fine art prints, at a very special introductory price of $99 each (post-free within NZ)
[OFFER NOW CLOSED]
"Finally!!" my daughter exclaims, at news that I am publishing fine art prints of my night photos (my middle name is Lightning). Taken by moonlight or at twilight, these are luminous, lovely images, distinctively New Zealand and found nowhere else but here.
These have been published in my three photo books but until now non have seen the light of day as limited edition fine art prints.
Each print is signed and numbered, and strictly limited to 25 copies.
Buy one, or buy several – at my special introductory price of
$99 each, post free within NZ.
For Australian orders:
Payment via Paypal invoice, in Australian currency.
$A99 offer includes free postage to Australia.
The price from 19th November 2018 will be $125 each.
The prints are available for only as long as the edition lasts, and as each edition gets close to selling out I will increase the price.
Order direct from the photographer.
Offer expires Sunday 18th November 2018.
The images are a uniform size, known as A3 (297 x 420mm). Professionally printed using proprietary inks on matt rag paper, these fine art prints come with a 5mm border, unframed.
Framing options can be seen in the pictures below, thanks to
The Framing Rooms, Nelson.
Each print comes with a certificate of authenticity and my artist's statement.
Yes, there are only 45 shopping days until Christmas, and I was amused to see on a Grinch movie poster recently the headline: "It's never too early to be annoyed by Christmas." However, it's also never too early to have those seasonal cares sorted. Reduce your To-do list today!
Offer expires Sunday 18th November 2018.
Order direct from the photographer.
Order one or several fine art prints at the excellent, one-off price of $99 each.
Order two prints and I will send two free calendars with your order. Order 3 prints and receive 3 free calendars!! (Sent separately from the prints)
Your order will be sent within 10 days. Payment by cheque or by direct credit:
B. M. Brewster Westpac 03 0703 0370438 00
Prints will be sent by NZ Post, Track & Trace, in mailing tubes, to your preferred address.
See a few examples of how the prints could be framed below.
Barney Brewster, Publisher
Download and view the catalogue and place your order today!
Click the following link to download the PDF catalogue 
◊ → [Download not found] ← ◊
Four of the eight prints available, showing some framing options. Please note that all prints are supplied unframed.
Email barneybrewster@xtra.co.nz to place your order today.
Posted by Barney Brewster
Categories: Publication