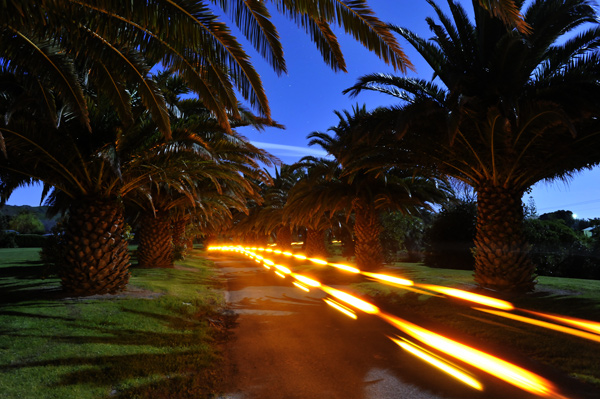 Last week was my first visit to the Hawkes Bay coast via the hill country – I come from across the island, on the opposite coast. Apparently there are three other beach settlements south of Cape Kidnappers, each reached singly by long road from the inland highway.
Arriving somewhere for the first time at night is usually such a different experience, and when we came upon these fat little phoenixes in the dark we laughed. Even in a domain they were still so unexpected and unaccompanied – there was no pavilion or other structure you usually find along with this sort of beach embellishment.
Seeing such an unusual avenue of dwarves lit up by headlights, we set about doing something on it. It's fun to have someone else along to help make interesting images, however it took quite a few runs by Gerry in her car to get what I was after. At least we had the place to ourselves, and had no worries about other traffic.
The challenge was to match the strong illumination from the car with the much weaker light from the moon, as moonlight is roughly par with the light from a 2 watt bulb. Either we had to turn off the headlights or do faster runs, to reduce their effect. Using just the blinking hazard lights achieved this and a bit more. Exposure was f8 for 30 secs, at ISO 2000, on the new Nikon D700, with the 28mm lens. Actually f11 would have been better, as I've had to damp down the daylight effect we ended up with.
However my first move had been to select tungsten for light source. Once available to photographers only as an entire length of film, this setting tones down the orange hazard lights while cooling the moonlight. It's a great option for extra creative effects, especially underexposure by moonlight. Having not yet mastered custom settings, I still had to remember "Tungsten!"
Posted by Barney Brewster
Tags: Hawkes Bay, high ISO, light trails, long exposure, moonlight, moonlight photography, Nikon D700, safety, tungsten, wide angle

Categories: Night photography