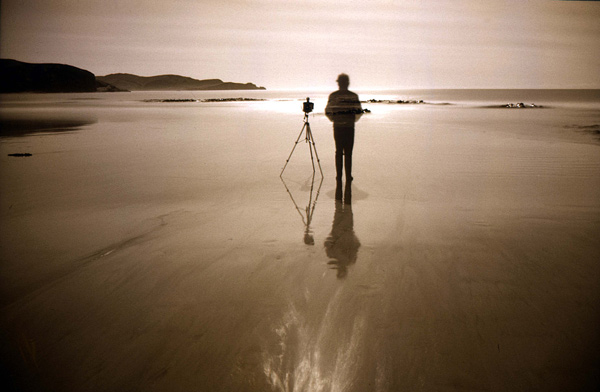 The exact time and length of exposure for this I never recorded, but the film was Agfa Isopan (100 ISO?), developed as a B&W slide and then sepia toned. Over 1981-82 I developed a good number of monochrome films with a reversal kit;  the results however were always fussy and frequently spotty – photos from negatives are easier to rescue. This pic, though, has always screened to a warm response; it puzzles audiences used to daylight and to glorious Kodachrome.
That autumn I was touring the country with a lady friend, doing my first calendar for Friends of the Earth. On this tranquil evening in south Otago I'm standing by the Linhof 4×5, timing a long exposure of the limestone cliffs across the bay. A good jacket and a cap warms me from the stiff sea breeze, and gumboots (wellingtons) keep the damp away; waterproof boots are a real boon for the night photographer. The translucence shows that I've walked into the exposure after it's begun, as self-timers can't do time (B) exposures. The beach is wide and gentle on the receding tide, while surf breaks on the far rocks. There is some movement in the thin cloud cover also, although the cloud was only intermittent. The two shadows are matched with reflections off the wet flats.
Composing a well-lit scene such as this was easy with the f1.4 standard lens on the Pentax Spotmatic F, but focussing was more problematic. Nowadays when I use this same camera for moonlight photography I do a minimum of f4 for 10 – 20 minutes (100 ISO film), or sometimes f8 for longer, to increase depth of field and thus improve focus. With a slower wide angle lens focus is less of a worry but then it's harder to frame the average moonlit scene, and to see what's in it. This pic features in the introduction to my Moonlight Calendar for 2011.
Posted by Barney Brewster
Tags: calendar, coast, film, long exposure, monochrome, moonlight, Otago, Pentax, reflections, tripod

Categories: Night photography