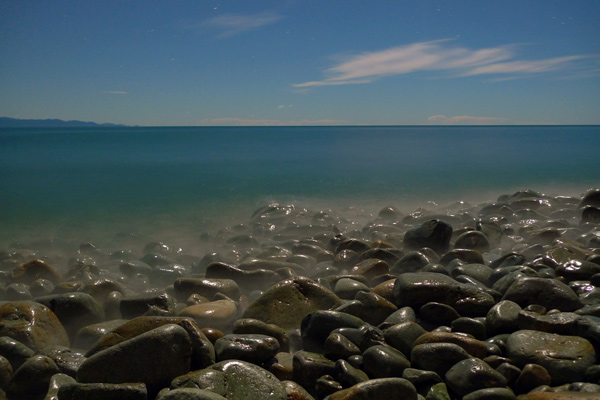 FEBRUARY in my Moonlight Calendar for 2011 – a simple scene that seems to intrigue people, a minute of miniature surf on the cobbles of the Boulder Bank. The Bank is a unique natural formation 18 km long sheltering Nelson Haven, Port Nelson and the city. Here, some 10 km along it, we're looking across Tasman Bay to the hills of Abel Tasman National Park and Separation Point. It was a still evening, common enough for the Bay this time of year, and while I knew the wave lap on rocks would look good, I expected a more visible streak of surf than the sea-mist which turned up instead.
True the surf was small, but it was perfectly formed and enough to wet your gear if your tripod was too close to the action. Quite apart from the uneven footing, finding a suitable spot in the tide for the tripod was a challenge, as further away from the surf there would be less impact. There's a lot to be said too for knowing the tides, but this evening I'd forgotten the tables. Since then I've bought two of them – one for the car, one for home – as they contain daily sun and moon times also, always good to have on hand.
Although the Lumix LX3 zoom is restricted by a lack of telephoto, the standard setting has good depth of field, as this frame demonstrates at f2.8 and 200 ISO. My new 85mm Nikon lens might have handled it better, but a  longer exposure on f16 and higher ISO would be needed to get close to the same depth of field. This would mean more cloud movement too, which is sometimes good but here I wanted the distant cloud as it looked, even if some drift is detectable. This shot could have been a good monochrome, but that has only come to me more recently.
Posted by Barney Brewster
Tags: calendar, coast, long exposure, Lumix LX3, moonlight, moonlight photography, Nelson, surf, Tasman Bay, telephoto, tripod

Categories: Night photography