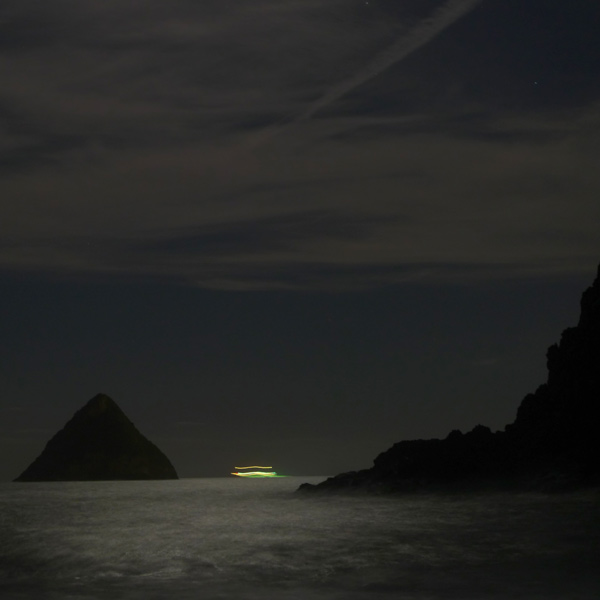 Back Beach is a favourite destination for me – and it's not too far from home. A pocket wild-place, the beach has many angles and facets, according to the weather, season and tide. As youngsters we would run down the long dune-face to the beach, and I recall my brother rescuing our young sister from a narrow ledge halfway down. Tracks back up along the cliffs were each lost to erosion in later years.
This view was taken from the top of the beach. It was unpleasantly windswept that night  but in this direction at least I could face away from the blast and shelter the camera and tripod. There's a solitary star – where were the rest? The clouds do not show any movement; they have arranged themselves to mimic the silhouettes of Moturoa (the original Sugar Loaf) and the left foot of Paritutu rock, an outcrop of local prominence. Of course there's no detail in these volcanic remnants, as exposing for the landscape would simply have washed out the interesting contrast of the lights.
At f2.8 for just 13 seconds, at a low ISO 100, the exposure was fast by my usual standard – especially as the moon was 4 nights from full. Moonlight photography well before full moon  gives a higher moon earlier in the evening, enabling these sea-reflections on a western coast. The zoom on the LX3 was at maximum, "60mm". I would liked to have got closer.
The lights of the distant ship have not moved much in 13 seconds. The light trails also hint at the sea swell, but the foreground waters are in the lee of Round Rock, where the tide was an hour past high. I am experimenting with surf and swell in moonlight photos of varying exposure length, and with different degrees of reflectance, but must confess I no longer keep a notebook for them. I have relied instead on EXIF data and last year's tide tables for the details above.
Posted by Barney Brewster
Tags: clouds, coast, light trails, long exposure, Lumix LX3, moonlight, moonlight photography, movement, New Plymouth, stars, Taranaki

Categories: Night photography