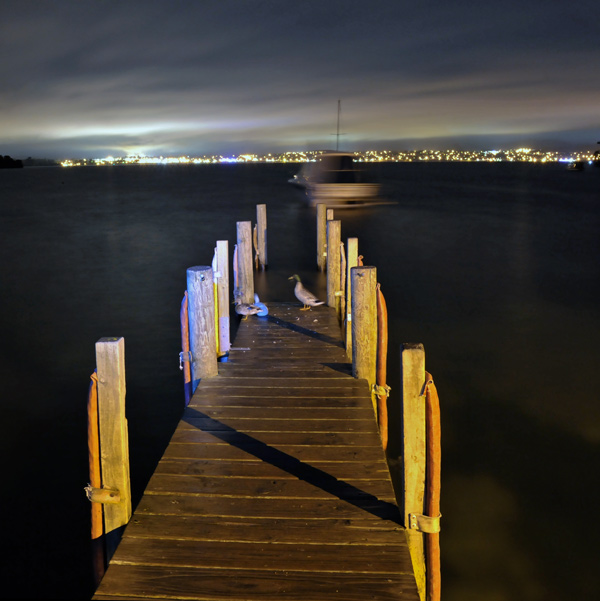 This is something of a burlesque on the cliched tranquil-lake-and-pier scene, examples of which somehow still win in photo competitions. I'm a fan of chocolate boxes myself but there's no tranquillity here, with unforgiving lakeside lighting adding to some uncommon elements: cloud streaks lit by a town, a boat moving on its anchor, three unsettled ducks (unharmed in this production), and a little spotlighting with a brilliant LED penlight.
The scene was recorded one unquiet, drizzly night when there was a brisk northerly under persistent cloud, which hid the full moon from a frustrated photographer. The location is Acacia Bay, Lake Taupo; the town is Taupo too. This tight composition does not have the usual top layer, while the perspective receives some assistance from the stepped pier. The ducks were all too wary of me, understandably, as it was much too damp an evening to show my "Vee for vegetarian" T shirt – an umbrella hovered above the tripod and camera for much of time.
The 28mm lens was set at f11 for good depth of focus, and shutter for 30 seconds. It was chance whether the birds obliged by not moving (much), but I knew the boat would bump about on the lake swell. ISO was 2000, and tungsten was selected to offset the orange sodium lighting. On assessing the high contrast, I chose the Neutral picture control for the first time. This is the least contrasty of the three picture controls offered on the Nikon D700, the Standard setting being in the middle. .
The penlight was very bright and I flashed it on for just a few seconds, wanting to open up the shadows. The main benefit has been to illuminate the white duck. Torchlight is a useful adjunct to night photography but to get it to balance with the ambient light the trick generally is to give the scene less highlighting than you think it probably needs.
Posted by Barney Brewster
Tags: animals, birds, boat, clouds, composition, focus, long exposure, movement, Nikon D700, street lighting;, Taupo, tripod, tungsten, wide angle

Categories: Night photography