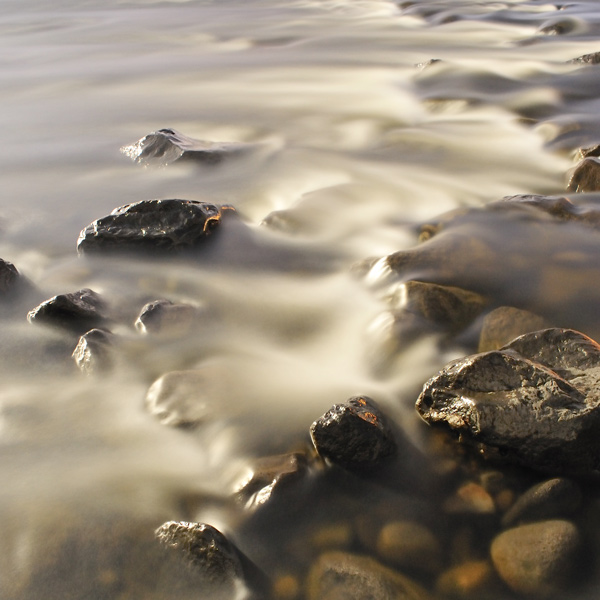 The Waiwhakaiho River is on the northern edge of New Plymouth, main centre for the Taranaki region. Radiator problems further north brought me back to the city prematurely, so I settled on a quiet stretch of the river for half a night of moonlight photography.
Exposure was 139 seconds, or 2 minutes 19 secs, at f8, ISO 2000. Counting down these long shutters means ample time to take in the surroundings. I watched or heard ducks fly in, and pukeko (swamp-hens) going about their noisy business, but this miniature rapid in the river also supplied a sound which was quite unexpected. The tide was almost full, and I soon discovered that it reached this lowest rung of a ladder of tiny falls and shoals – the location is well above the Te Wera Wera Bridge and about 800 metres (half a mile) from the sea.
The tide came up in a long series of pulses, which soon rose to virtually submerge the fall, and so to silence it. As each pulse waned, the water level would drop and the sound of cascading water would again surge. The change in timbre and pitch was quite uncanny as the water tumbled, then merely meandered, then resumed its fall. I have never heard anything like it. Unfortunately I do not have the technical sophistication to add audio to my photo blog, which is a real pity on those occasions when sound is a compelling extra element in the experience.
The lens was 28mm, picture setting Vivid. The low moon gave an especially warm light, but there's an extra glint from street lighting far away to the right. f8 allows sufficient depth of focus on the wide angle. The blur on the near rocks records the start of another rise of the tide. The slightly jarring notes to the composition are intended to offset the water movement, the soft blur of which risks cliche.
Posted by Barney Brewster
Tags: composition, focus, high ISO, long exposure, moonlight, moonlight photography, movement, New Plymouth, Nikon D700, soundtrack, street lighting;, Taranaki, tide, water, wide angle

Categories: Night photography