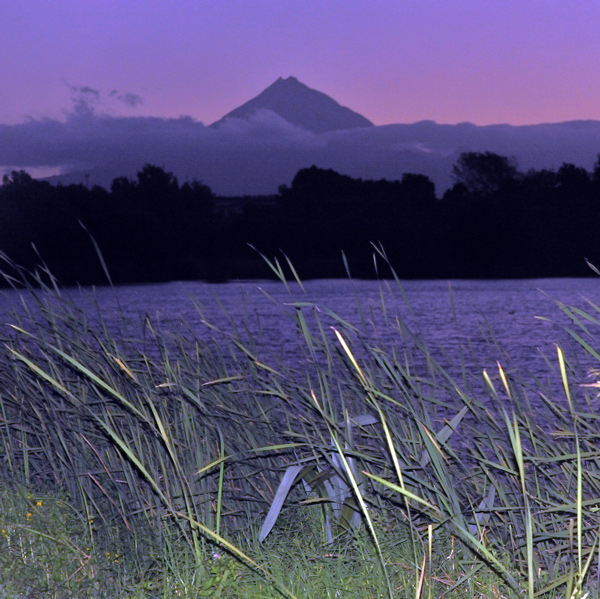 This twilight image at Lake Rotomanu, New Plymouth, completes my current series of square format images. The starting point has been the standard 3:2 rectangle, which is the only choice on my Nikon D700. This lack of options hangs over from the days of 35mm preeminence, as the 60-year standard is now losing ground to the 4:3 screen format. One advantage of the Lumix LX3 compact is its three formats of 3:2, 4:3 and 16:9, which is the panoramic frame.
I have found many of my pictures are much improved from squaring up, and not only the horizontal frames. As one last option, squaring up tightens composition and sometimes perspective, by eliminating "unoccupied ground" – those areas of the canvas where the pixel-paint is not very interesting, poorly detailed or badly daubed.
Using the 85mm lens at f7.1, and 1/250th second on 2000 ISO combines the garish aspect of flash with the pleasure of the evening sky. I have only the flash pop-up on the camera, sufficient for my own low usage of this melodramatic form of lighting. Separate lights would be the next step for anyone really taken with the possibilities. Pop-up flashes can hardly be subtle light sources in twilight settings, and fill-in flash is easily overdone in my opinion.
The volcanic peak Taranaki looms above the frequent cloud, while the lakeside reeds are stilled in the wind. Cropping on the right has removed a lens flare caused by a careless finger too close to the glass. Auto levels on Photoshop gave the background highlights such an unexpected magneta lift that I just hit "Save". There was improvement also in contrast, the bands of colour being a large part of the impact.
Deeper twilight, say 20 minutes later, has more creative scope than this quick shot. For example, an  exposure of several minutes would blur the cloud layer while maintaining the flash instantaneity on the foreground. This is where an evening with the tripod would begin.
Posted by Barney Brewster
Tags: clouds, composition, flash, focus, high ISO, mountain, movement, New Plymouth, Nikon D700, summer, Taranaki, telephoto, tripod, twilight, water

Categories: Twilight photography