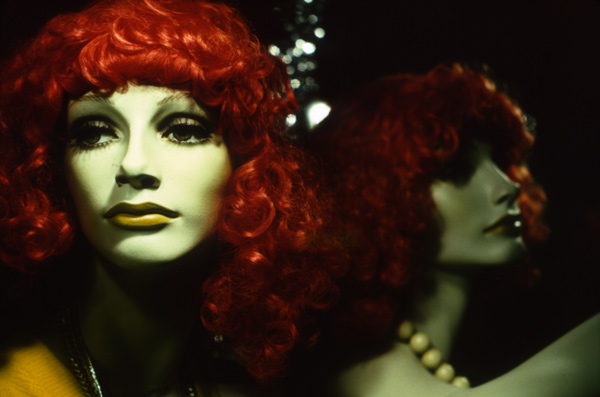 3 December 1979.
I was wandering up Queen Street, the main business street, feeling slightly nervous to be out so late on my own with my gear. The models were quite obliging however, and so brightly lit that I could do some quick hand-held photos with the Pentax Spotmatic and move on. Another surprise was the lack of reflection in the window glass. Photographing shopfront displays is usually problematic by day with unwanted reflections, and with street lighting it can still be bothersome. The standard lens was pressed against the glass for this one.
The film was Kodak's Infra red Ektachrome, unfiltered on account of the tungsten lighting. This enabled an extra stop for the exposure, which was unrecorded but at an ISO of 200 I believe it was f1.4 at around 1/60th second. Holding the camera against the glass helped reduce camera shake. Infra red Ektachrome was a high contrast film, but the exposure has not suffered by it. The film's infra red sensitivity was restricted to one layer of the emulsion; the other layers simply displaced colours for a surreal effect. The wig was golden as I recall, and her lips and neckline were actually red. My own hair was a similar length at this time but, alas, without any similar sense of style.
Composition and focus were easily established through the viewfinder. While there is some tension from the close cropping at left and the diagonal arm placement on the right, I suspect the frame avoids an intrusive retail placard. The minimal depth of focus which accompanies a wide open aperture has not been a problem here.
I call this photo the near side of night photography, relying as it does on a hand-held camera, instantaneous exposure and completely artificial lighting. It would not be possible to replicate the image by daylight, as the background mannequin would then be better lit.
Posted by Barney Brewster
Tags: auckland, composition, film, focus, infra red, mannequin, Pentax, reflections, street lighting;, tungsten, viewfinder

Categories: Night photography