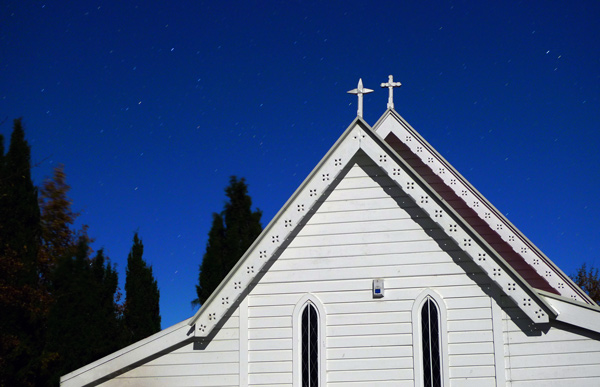 6.21pm, 6 June 2009.
This simple image depends for its impact on the white & blue contrast and the unexpected double cross. Also visible is the Southern Cross constellation, moving with the other stars in this 40 second exposure. Some uncommon fretwork and the conical pines serve as additional points of interest. The lens was set at f2.8, the maximum when the Lumix LX3 zoom is at the telephoto end – a modest 60mm in standard film terms.  ISO was 100 and the frame has been slighly cropped to partly correct my poor levels with the tripod.
The front of the church was too exposed to the highway headlights and nearby intersection lamps, but I was pleasantly surprised to find the venue redeemed for moonlight photography by going around the back. Complete with some 19th century graves, this seemed a tranquil spot and one in which I was unlikely to be disturbed by the living – both these aspects being highly valued by the night photographer. Working in the dark is quite absorbing but at the same time your creature instincts are sharpened in the experience, and it's clear to me that our distant ancestors were not mammals of the night.
As well as being an absorbing occupation, moonlight photography is at times particularly frustrating because the movements and adjustments easily made by daylight can become so muddled or mistaken in the half-light. I've used a caver's light (headband fashion) but can't repair my current one. Keeping up good habits helps to reduce a few hassles ("No, the lens cap always goes in your right pocket"; "Better zip that bag up right now") but other irritations are likely as fatigue sets in after midnight. You can also blame fatigue the next day when you ruefully recognise an overlooked angle or missed opportunity from the night before.  
This photo would be improved, I think, with 10-minute star trails but 60 seconds is the maximum on  the LX3, as the camera has no B function for extended exposures.
Posted by Barney Brewster
Tags: bridge, church, composition, long exposure, Lumix LX3, moonlight photography, movement, Nelson, stars, trees

Categories: Night photography