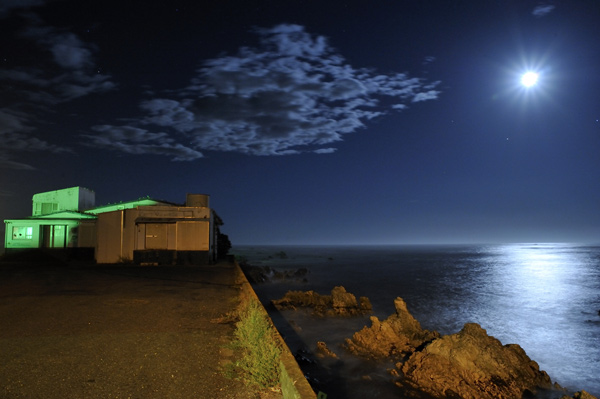 This scene immediately appealed for its mixed lighting and the sense of depth. The fish factory was notable for the top-hat storey, as well as the many gulls roosting on its roofline. In the 100 minutes since the previous image (no. 94) the sea had calmed quite noticeably, and the outgoing tide soon revealed how shallow this side of the port was.
The challenge was to get all four elements right – cloud, moon, rocks and the buildings – and only the wide angle could do this. The lens was stopped down to optimise depth of field but I was also keen to keep the interesting cloud shape well-defined. This aperture/shutter speed conflict is a common dilemma for the moonlight photographer, but in addition there was no time to worry about exact focus.
Typically, featured cumulus clouds unfreeze after exposures of roughly 5 seconds, and there is even less latitude when you use telephoto lenses. Like stars, the best effects seem to come from getting them either quite still or really streaky, and "quite still" requires quick action with camera settings. The left hand sky seems too dark but the moonlight reflection on the right works well I think.
A longer exposure risked losing some of the cloud definition but then again might have given the moon a more perfectly circular shape – something I have noted in long shots of the gibbous moon. Going the other way, however, one stop less (6 seconds) would have sharpened the cloud shape further and perhaps have shown too the surprising aerial wheeling of the gulls above the roofline.
Sometimes it seems the perfect photo requires an hour of effort at any one spot, but just as often the light effect fades or the scene itself changes before you are done. You'd think that  doing moonlight photography would be like watching paint dry or grass grow – that you'd always have as much time as you needed!
28mm lens; ISO 2000. 13 seconds at f11. Incandescent setting.
Posted by Barney Brewster
Tags: clouds, coast, composition, high ISO, Kaikoura, long exposure, moonlight, moonlight photography, movement, Pentax, stars, street lighting;, summer, tungsten, water, wide angle

Categories: Night photography