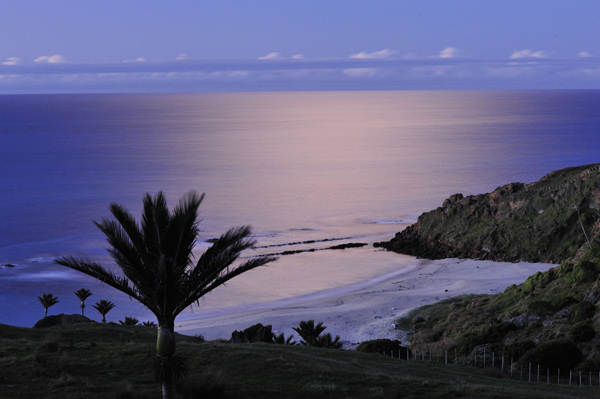 Te Hapu is a cattle station south of Westhaven Inlet, an hour down the scenic coast from Collingwood in Golden Bay. It's a big, rugged belt of limestone and its holiday cottages give city dwellers the chance to enjoy the landscape and splendid isolation (www.tehapu.co.nz). The four of us had the Shearing Shed Retreat for a few nights. It's solar-powered with a lovely outdoor bath, but best of all is nearby Gilbert's Beach, preserved by a locked gate from access by all and sundry.
Gilbert's broad beach has an offshore reef, making it a safe swimming spot with clear water. A backdrop of scattered nikau and huge limestone buttress enhances the experience and as a location for the perfect summer idyll Gilbert's lacks only shade – not that this mattered when I took the shot above.
It shows the last of the twilight when a half moon is in the western sky. The rosy glow was superb and the perfect balance of the two natural lights was striking. However the window of opportunity was narrow and the pink lasted but a minute or so. Soon after I could get landscape detail or a good reflection – but not both.
Focus was by eye, fortunately, but I was glad of a small aperture to get a good depth of field with the telephoto. This was our last night at Te Hapu; on earlier evenings we had had the pleasure of the crescent moon gracing the sunset sky, but only now was the moon in the right quadrant – and bright enough – to give this effect.
The half moon is at roughly at 12 o'clock position at sunset. In terms of the lunar cycle and moonlight photography it's a good time for landscapes which need a westerly light – late afternoon in daylight terms – because the fuller moon only reaches the position well after midnight, or in the wee hours before dawn.
85mm lens, ISO2000. 30 seconds at f13
Posted by Barney Brewster
Tags: clouds, coast, focus, Golden Bay, high ISO, long exposure, moonlight, movement, Nikon D700, reflections, summer, surf, telephoto, twilight, viewfinder, water

Categories: Twilight photography