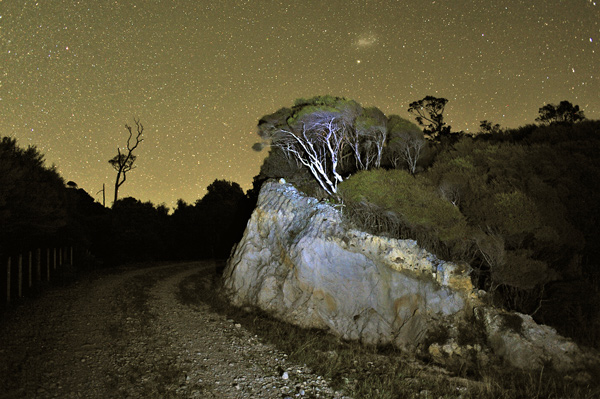 Despite this corner being at evening's end Gerry and I were happy for the uphill slog that began here, under a moonless, starry sky. By text message we had heard of the huge earthquake and tsunami in Japan, and remote though Te Hapu station (www.tehapu.co.nz) may be at the top left corner of the South Island, it is also on the coast.
As the tsunami rippled into the South Pacific, the walk up from the beach to our quarters assured us step by step of a more elevated perch – although next day we found no sign of a surge on the broad sands below. How curious that such a back-road should be framed by a very distant event. Yet as we are often shown, the world is much smaller than it seems.
The photo shows torchlight used for a different take on an otherwise insipid prospect, with the snow white manuka contrasting with the silhouettes. Recovering latent possibilities in a disappointing result can be a nice surprise and what you probably can't tell here is that my underexposed original has been rescued by Photoshop. Auto levels gave life to this image; further adjustments came with the Adjust lighting/shadows & highlights function: lighten shadows (+10%), darken highlights (+10%) and midtone contrast (+20%). All good!
So why didn't I put a figure in the background – a third punch to the composition? The  answer is predictable and a well known syndrome within the craft of night photography: end of evening drag. When out with folk, as above, I am too polite to ask my companions to wait out and/or perform for yet one more "last shot". Another weary minute detracts from the fresh experience of the earlier evening – plus I know that it's not often that my objective can be achieved by a single frame.
But really, I guess I was too tired to even think of it.
28mm, ISO 2000. 30 seconds at f3.2. Vivid picture control
Posted by Barney Brewster
Tags: composition, Golden Bay, high ISO, long exposure, Nelson, Nikon D700, stars, trees, wide angle

Categories: Night photography